On Nov. 8, 2013, Typhoon Haiyan, known locally as Typhoon Yolanda, crashed into the central Philippines. For the next several days, heavy rainfall and top-speed winds wreaked havoc on the region. The typhoon, one of the strongest recorded storms to ever make landfall, impacted 14 million people, took the lives of 6,300 people, damaged or destroyed 1 million homes and caused $2 billion in damages.
Of the 14 million people affected by the storm, 40 percent were already living below the poverty line. Also, out of the affected population in the 14 provinces, the livelihoods of 5.6 million people were destroyed, lost or disrupted.
It has now been a little over 2 years and we are still present. Thanks to your generosity in giving almost $2.5 million and because of our network of partners on the ground in the Philippines, Lutheran Disaster Response was able to respond to immediate relief needs and continues to address the longer-term recovery needs.  Below is the story of Marilyn Jabilloraga, a survivor and participant in the Livelihood Recovery Program, through our partner Lutheran World Relief.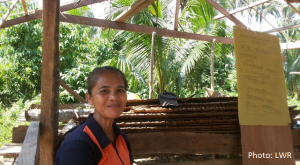 Marilyn Jabilloraga lives in Barangay Calao, nestled in the uplands of Burauen Municipality in Leyte Province. She is a 49 year-old married mother of two.  
Just like many others in the Philippines, Marilyn and her family were severely affected by Typhoon Haiyan. Although they did not experience the storm surge, the wind was so strong that their house collapsed. They hid under the sink, which was the only part of the house that was left standing.  
Because their house was destroyed, Marilyn's family slept in a makeshift shelter with only tarp as their roofing for three months. The typhoon also devastated the family's coconut trees and their livelihoods in copra and rice production. 
However, Marilyn was able to participate in LWR's project and received vegetable seeds, calamansi1 as well as farm training to revive her family's livelihood. Being able to grow and harvest her own vegetables for her family's consumption was a logistical and financial relief for Marilyn. She was also glad to be trained on how to make organic fertilizer and pesticide as well as on improved agricultural practices and marketing techniques. She is hopeful that her calamansi and coconut seedlings will bear fruit in the near future and become a strong source of income for the family. 
She still dreams that, one day, she and her family will enjoy a life like the one they had before Haiyan – or even better.            
Church in Society: A Lutheran Perspective, the ELCA's social statement on the church's relation to society and its public presence and responsibilities, states, "As a reconciling and healing presence, this church is called to minister to human need with compassion and imagination." Lutheran Disaster Response answers this call by often being the last ones to leave after disaster occurs. Staying behind to aid those, like Marilyn, who may have otherwise fell through the cracks.
Here's how you can be a part of the response:
Pray
Please pray for all those affected by this crisis. Remember those who have lost everything and all those who are working to respond. You can use these prayers and resources in your worship services.
Give
Gifts to Lutheran Disaster Response will be used to provide immediate and/or longer-term recovery relief.
Connect
To learn more about this situation and other LDR response:
Sign up to receive Lutheran Disaster Response alerts.
Subscribe to the Lutheran Disaster Response blog.
Like our Facebook page.