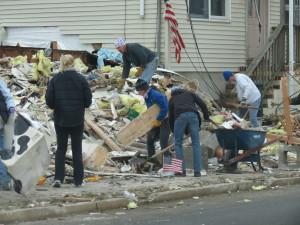 One year ago, Hurricane Sandy swept through the Caribbean and northeastern United States, bringing heavy rain and strong winds. The areas were impacted with widespread flooding and fallen trees, which damaged and destroyed homes and businesses. Areas were without power and heat for several weeks. Water supplies were contaminated and the number of outbreaks of cholera increased.
People like you quickly responded with prayers and financial support to help the church assist our brothers and sisters through their recovery and rebuilding. Through your generous gifts, Lutheran Disaster Response raised more than $4 million to assist with Hurricane Sandy recovery. And because we are a trusted partner, the American Red Cross granted us $1.9 million to support our commitment to assist the millions of people affected by Hurricane Sandy. This grant has enabled us to expand our response efforts.
Working with our partners in the U.S. and in the Caribbean, we have played an active role in the recovery process.
Maryland – Working with Diakon Social Ministries, we have served 81 households, rehabbed 52 homes, helped in the construction of two homes, and have begun construction of six other homes in Maryland. Disaster case managers are matching client needs for counseling, health issues or food support. More than 130 volunteers have given their time and energy to help this community rebuild.
New Jersey – Partnering with Lutheran Social Ministries of New Jersey(LSM/NJ), we have provided more than 30 unmet-needs grants to help families cover hurricane-related expenses not covered by FEMA or insurance, such as rental assistance and repair costs. A volunteer hosting site at Reformation Lutheran Church, in partnership with Long Branch Covenant Church, has housed more than 125 volunteers, culminating in more than 896 volunteer hours for site support. We also helped bring Camp Noah to New Jersey – a fun and safe environment that has helped more than 90 children heal after Hurricane Sandy.
New York – With Lutheran Social Services of New York, Lutheran Disaster Response is providing case management for more than 260 families to assist them with unmet needs. We've also provided lodging for more than 60 volunteers, culminating in more than 1,400 hours of rebuilding in Queens, N.Y.
Cuba – Working with the Cuban Council of Churches, a partnership of 20 Protestant churches, Lutheran Disaster Response provided food security, water, shelter, roof reconstruction and livelihood restoration to more than 1,000 families.
Haiti –In collaboration with The Lutheran World Federation and the Lutheran Church in Haiti, Lutheran Disaster Response worked to drain excess water to help reduce the risk of cholera outbreaks following the hurricane.
Recovery from disaster carries on long after the headlines change, and so does our work. In New York, New Jersey and Maryland, we continue to provide volunteer coordination, home reconstruction management and disaster case managers, who advocate for individual families' needs.
Please continue to pray for the people and communities affected by Hurricane Sandy as they continue to restore their homes, lives and hope.