In late February and early March, a profusion of strong winds, tornadoes and flood waters ripped through the southeastern region of the United States.
The impacts of the storm and flooding were so severe that on March 13, the state of Louisiana received federal disaster declaration. As of March 20th, we know that more than 18,000 people registered for FEMA assistance in Louisiana and that number is climbing.  On March 19, Texas received its federal disaster declaration.
And as the days continue, more flood waters are coming in and continuing to displace families with homes being destroyed and entire highways being inaccessible.
Through congregations, synods and Upbring (formerly known as Lutheran Social Services of the South), our disaster affiliate organization, Lutheran Disaster Response is working to assist those who have been affected by the flooding. Lutheran Disaster Response's coordinator is present, working with local community leaders and officials to begin planning the proper responses, particularly the long-term recovery efforts.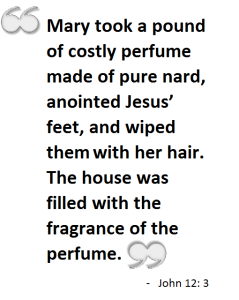 Pastor Anna-Kari Johnson, Associate Program Director for New Congregations, recently gave a sermon on John 12: 1-8. In it she spoke about Mary's joy at Jesus' gift of resurrection of Lazarus. Mary was so elated that she breaks open the expensive nard perfume and anoints Jesus' feet. Johnson said, "Some criticize her, but I ask you—when your own eyes see the person you love most and Jesus by your side—what are you going to break open at Jesus' feet?"
As we commemorate Holy Week, let us reflect on the gift of life that Jesus gave us, through his death, and what we are willing to break open at His feet.
We know that this will be a long road to recovery. As survivors begin to pick up the pieces of their lives and strive for a new sense of normalcy, we will be there to assist through every phase of this disaster recovery process. Your gifts are needed to continue Lutheran Disaster Response's relief efforts.
Be a part of the response:
Your gifts to respond to these U.S. spring storms through Lutheran Disaster Response will work to bring God's hope, healing and renewal to those who have been affected.
Gifts designated for U.S. Spring Storms will be used in full (100 percent) until the response is complete to help disaster survivors recover and rebuild their lives. Your generous offerings of prayer and financial support will help address the unmet needs of those affected.
Join me in prayer and partnership, and use this bulletin insert in your congregation to help spread the word and support those who need rest.
Ways to Give
Checks or money orders should be sent to:
Lutheran Disaster Response P.O. Box 1809 Merrifield, VA 22116-8009
Write "U.S. Spring Storms" on your check memo line.
———————–
Give by phone at 800-638-3522 or online.