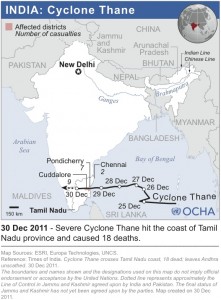 "Our project office in Chidambaram which is situated 40 kilometer away from the center of the cyclone also felt the intensity. The devastation is similar to that of the Tsunami in 2004. As per media and govt. reports, the cyclone killed 42 people, while many people are injured and about 20,000 people became homeless and are taking shelter in relief camps and makeshift arrangement shelters."
Mr. B.N. Biswal
Deputy Manager – Emergency
Lutheran World Service India Trust (LWSIT)
The quote above from Mr. Biswal is describing the impact of Cyclone Thane, which struck the southern region of India on December 30 and how it affected the offices of LWSIT, a partner of the ELCA, in the area. As the cyclone's damage was mainly focused on the eastern seaboard area of Tamil Nadu. The most affected populations were those already living in poverty (day laborers, fisher folk and farmers). These people make up the majority of those who lost their homes but now must also deal with wreaked boats, ruined crops and a lack of work.
The massive flooding has led to a severe shortage of drinkable water as wells and ponds are flooded with salt water. The winds, which reached up to 87 mph, uprooted many trees and snapped power lines, leading to blocked roads and downed communications. Also, a food shortage has raised local prices to a point beyond the means of many poorer families. Though there has been an affect to most of the crops in the area, the hardest hit were the rice paddies. They were due to be harvested in the coming weeks but many acres have been completely destroyed.
The ELCA's continues to be in contact with local partners on the ground as they assess the situation. Word has been received from the United Evangelical Lutheran Church in India (UELCI) that they are planning an immediate response of food items for 5500 families in 55 villages and 1000 huts material assistance and repair as well as 6 institutional building repairs. Check back for updates as the response continues to be solidified. And please keep the our partners and the people affected by Thane in your prayers.
————-
Gifts to ELCA International Disaster Response allow the church to respond globally in times of need. Donate now.