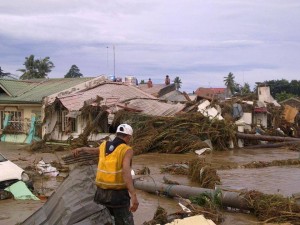 The following report from Lutheran Iligan – Disaster Relief Chairman Rev. Xavier James B. Palattao is a bit dated (Dec 21) but it gives a good overview of the aftermath in Iligan City following the devastation of Typhoon Washi (local name: Sendong) on Dec 16. Also, there is a few pages of pictures at the end that tell in more than words what the damage really looks like (photo on the right is from the set).
Of note in the report is the explanation of why Iligan City is not getting more aid. Within the pictures see how the dwellings are so closely clustered on the edge of the river banks. When the waters rose quickly these people, some of the poorest in the area, were caught right in the middle of it. And so those least equipped to handle a disaster were the most impacted, an unfortunately common theme in disaster.
Take a few moments to learn more in the Iligan City Disaster Report. (pdf)
————-
Gifts to ELCA International Disaster Response allow the church to respond globally in times of need. Donate now.