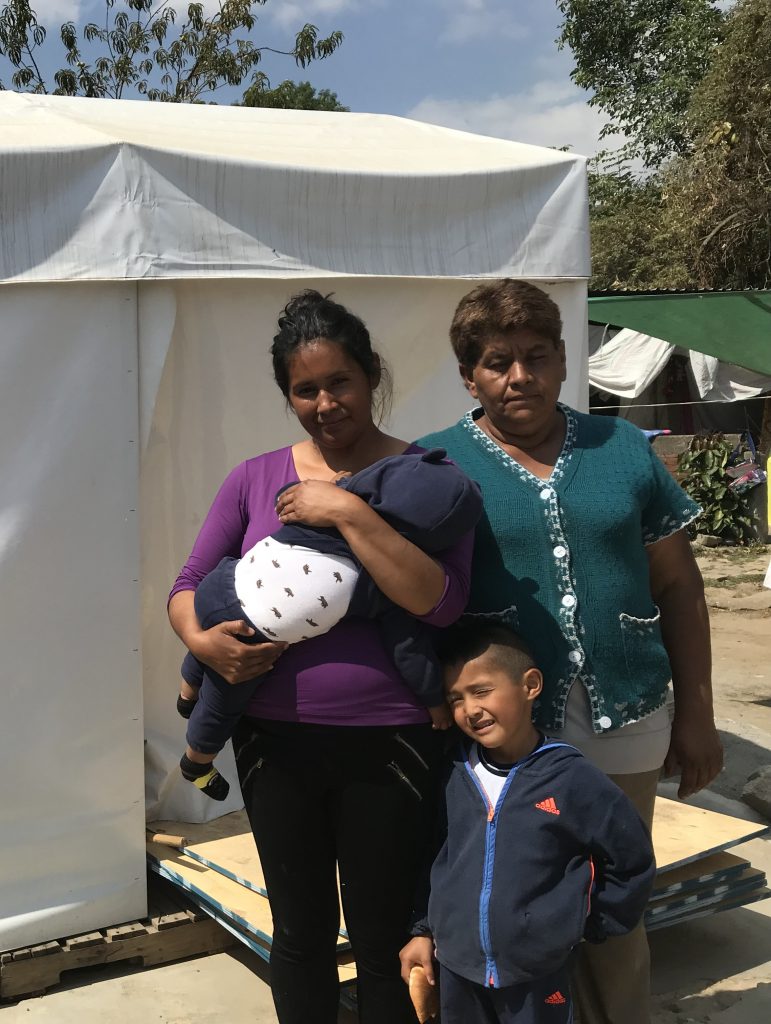 In September of 2017, a series of earthquakes struck Mexico. Norma Lozada was outside of her home in the Morales province preparing food to sell for the day when suddenly, she felt the quakes. Norma, and her family found safety; However, when they returned to their home, they found it severely damaged and unsafe to live in.
Three months after the disaster, Norma received a tarp with frames from Amextra as a temporary shelter for her family. The tarp, unfortunately, did not provide enough warmth for her grandchildren at night so they used the tarp to store the items they salvaged from their old home. Meanwhile, the local government handed out funds to help families repair or reconstruct their houses. Norma's sister received a modest amount, but it is not enough to build a house for nine people.
With Norma's own money and through LDR's partnership with Amextra, Norma is getting a new home for her and her family. The house will be built in their backyard, next to their old house. Norma has purchased supplies and hired a carpenter. Also, an architect has been brought in to design the house based on the needs of the family and the specification of an earthquake-resistant home. The house may take months to finish, as Norma will rely mostly on volunteer labor, but never the less, she and her family are excited. "It is truly amazing to finally have a place I can call my own," She said.
Lutheran Disaster Response and Amextra will continue to accompany people like Norma, to help bring hope and healing to communities impacted by disaster.  Through our partnership we are walking with the people of the Morales province by providing funds to help local businesses re-open, building temporary and permanent housing for women-lead households, the elderly and other vulnerable groups, and facilitating post-traumatic stress management workshop for children and adults.
---
Be a part of the response:
Pray
Continue to pray for all those impacted by the earthquakes, fires,mudslides, floods and hurricanes. May God's healing presence comfort them in their time of need.
Give
Thanks to generous, undesignated donations, Lutheran Disaster Response is able to respond quickly and effectively to disasters around the globe, including the many earthquakes in Mexico. Your gifts to Lutheran Disaster Response will be used where there is the greatest need.
Connect
To learn more about global migration and what Lutheran Disaster Response is doing: