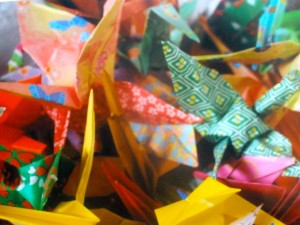 Pastor Eric Olaf Olson and his congregation of Good Shepherd Lutheran Church and school in Plainview NY were amazed by turnout for their "Cranes of Compassion" event held to help raise awareness and funds for the relief effort still continuing for those affected by the earthquake and tsunami in Japan.
Led by current and alumni Japanese families whose children have attend the church's early childhood center, those who attended the event were treated to sushi and curried rice made by the owner of a local sushi restaurant. They also learned how to make tsuru, Japanese for crane, origami to be shared with one of the Lutheran congregations of Sendai, Japan.
Thanks to many hands making light work the group was able to surpass their goal of making over 1,000 cranes! As another way of showing solidarity with our Japanese sisters and brothers they also raised over $3,500 for ELCA Disaster Response to help meet the continuing needs of those affected in Japan.
Our prayers of thanksgiving go out to Good Shepherd and the attendees of the Cranes of Compassion event as they continue to live out a vision of accompaniment where even the act of folding paper is God's work being done through our hands.
————-
Gifts to ELCA International Disaster Response allow the church to respond globally in times of need. Donate now.