​Advent: Peace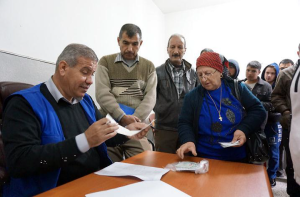 Gorgya Paols receives a food voucher that provides her a carton of food that will last for one month.
Gorgya Paols, 63, has only one wish in this season of wishes – peace in her home country, Iraq. Having already fled Baghdad in 2005 after being persecuted for being Christian, Gorgya is tired of running.
"I love my country so much," she says. "I don't want to leave. It makes me sad and I hope the people who have left might one day be able to come back to live together peacefully, happily. Every day, someone is leaving and I must say goodbye."
Gorgya is currently living in a small home with her husband and her son's family of five.
Advent: Love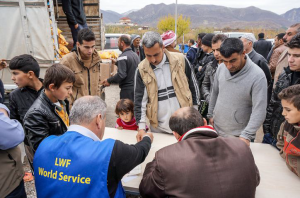 Five-year-old Vian Shara stands in the crowd at a distribution of food in Northern Iraq with her father, Saeed Shara.
Saeed Shara and his wife and their three children were forced to flee their home due to the recent conflict in Iraq. They didn't have much time and they weren't able to carry much, so the only belongings they took with them were whatever they could grab. Once they arrived in an area of safety, Shara's family was welcomed by strangers who opened their unoccupied home to let them and three other families occupy it.
In addition to the stress of leaving their home, Shara and his family are concerned about the disruption in their children's education and the health of one of their daughters, Vian, who suffers from kidney failure.
Lutheran Disaster Response is working with the Lutheran World Federation to provide food assistance to both Gorgya Paols' and Saeed Shara's families while they face this time of uncertainty in their country and their homes. We are committed to walking with our brothers and sisters in Iraq, and we pray for their safety and well-being.
Gracious God,
As we celebrate the birth of your son, we bring to you the refugees from Iraq. Give them today their daily bread. Shelter them from the cold, from aggression, violence and mistrust. Keep a candle of hope burning in their hearts, and grant them peace – peace in their country, but also peace of mind. Be with all the people who assist them, the host communities and the aid workers. Grant them strength, open eyes and open hearts, to be able to respond to spoken and unspoken needs. Let them keep the faith, even if the situation may seem overwhelming. Be with all the people who have lost their homes because of violence. Teach us to be compassionate and welcoming, to the glory of your name. Let us be a voice for those who are not heard and advocate for justice on their behalf. Grant us understanding and peace. Amen.
Photos and prayer are courtesy of the Lutheran World Federation.