Deliverance belongs to the Lord; may your blessing be on your people! – Psalm 3:8 (NRSV)
Today, September 8th is International Literacy Day. It is the 50th anniversary of this day that celebrates the work of individuals, organizations, and governments in their efforts to increase literacy rates all over the world.  In celebration of that, we share this post. It was written by Rev. Franklin Ishida, Area Director for Asia and the Pacific.
________________________________________________________________________________
In Nepal, education is so highly valued that, following the devastating earthquakes in 2015, makeshift classrooms were built immediately so children could continue their learning. In many places, rebuilding school buildings was a great challenge due to the difficult mountainous terrain.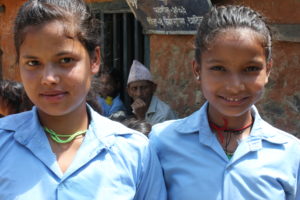 Lutheran Disaster Response, working with partners in Nepal, was not just about rebuilding homes, livelihood, and other infrastructure, but also about building up the very foundations of life: education. One of the partners, United Mission to Nepal, was tasked by the government to help rebuild schools in some of the most inaccessible places.
Shree Oile Basic school was one of these schools rebuilt with funding from LDR. A new two classroom building now stands proud, built in an approved earthquake-resistant design. Compared to the crumbling old building, the new one has tall ceilings, a bright interior, and wonderful environment for learning.
"Our old building was not so bright," said headmistress Radha Adhikori. "In the summer, especially, children would fall asleep when it was dark inside. It is now bright and it will be better for the students and the teachers."
The children themselves are excited about the change. "We don't have to worry about earthquakes and we feel safer now," said Tara, a student at the school. "We also don't have to worry when it rains or thunders outside," noting the sturdy roof on the building. There also are brand new latrines and a clean water supply.
"We hope to achieve so much more in learning now that we have a new building," said Adhikori. "I am happy for this kind of support for our education. And now, my hope is we can expand this school beyond early childhood and classes 1 to 3."
______________________________________________________________
Be a part of the response: