​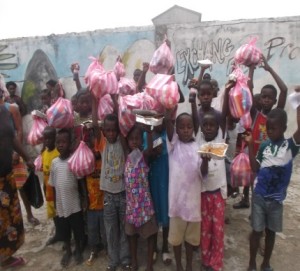 Pictured: Children of Morabie Community in Sierra Leone show food they received. Photo courtesy of Evangelical Lutheran Church in Sierra Leone.
Christmas is usually a time for parties and a time when families travel from all corners to gather together to celebrate. It is a time to join together in worship to celebrate the birth of the newborn king. However, Christmas was different this year in Liberia and Sierra Leone, two countries that continue to fight against Ebola.
In Liberia, even though the number of new cases of Ebola had been declining, large gatherings in the capital city of Monrovia were banned to help prevent people from gathering together and potentially spreading the virus.
Sierra Leone at Christmas had – and continues to have – a higher number of Ebola cases than Liberia. Parts of the country were on total lockdown over the holiday, quarantining people to their homes. Transportation was restricted and shops were closed. The only exception to the lockdown was the permission for Christians to gather at churches for Christmas Day services.
Lutheran Disaster Response, working with our global companion churches, activated food distributions to assist households with food security for the Christmas holiday.
Working with the Lutheran Church in Liberia, Lutheran Disaster Response assisted with food distribution in six territories, providing one month's supply of oil, rice and fish to approximately 1,000 households.
Partnering with the Northern Texas – Northern Louisiana Synod, Lutheran Disaster Response worked with the Evangelical Lutheran Church in Sierra Leone to provide food assistance for 275 households in five districts and for approximately 600 children in quarantined homes across six communities.
"The Christmas food distribution was a lifeline for many desperate and needy brothers and sisters in the communities served," Bishop Thomas Barnett of the Evangelical Lutheran Church in Sierra Leone said. "It brought the Church to the people and enlivened for many the message of love and hope. In short, I am humbly proud to say that our [relationship] with the ELCA continues to be our most empowering and effective tool of evangelism."
According to a Jan. 30, 2015, report from the Centers for Disease Control and Prevention, that week there were fewer than 100 new confirmed Ebola cases for the first time since June 29, 2014. While the number of new cases of Ebola is declining, Lutheran Disaster Response is still walking with our global companion churches in the affected region as we pray for health and continued prevention. Lutheran Disaster Response is also shifting its focus from immediate response to long-term recovery in Liberia and Sierra Leone by helping strengthen health systems, providing support to orphans and youth affected by Ebola, promoting hygiene and assisting with job creation.
Join us in praying for people in West Africa who have been and continue to be affected by Ebola. We pray for those who have lost loved ones and those who have lost jobs. We also say prayers of thanks for the declining number of new Ebola cases and the recovery work that is being done.
If you would like to support Lutheran Disaster Response's work in the fight against Ebola, please visit the giving page.