Life With Dignity
(LWD) in Cambodia, to talk about how to better share our story of the church active in the world, particularly around disasters. In the spirit of the workshops purpose I asked Dr. Sam Inn, Executive Director of LWD, if he would give me his thoughts on the situation of flooding in Cambodia. Below is a summary of the main points of that conversation.
To get some background on the situation and the initial ELCA response, see the previous post SE Asia Floods: ELCA Responds in Cambodia & Thailand.
Overview
According to Dr. Inn, the flooding has affected the areas mainly along the Mekong River and around Tonle Sap Lake, though 17 of the 24 provinces have been affected in one way or another. Luckily the capital, Phnom Penh, has not been affected. The situation has led to 250 deaths and 1.2 million people strongly affected.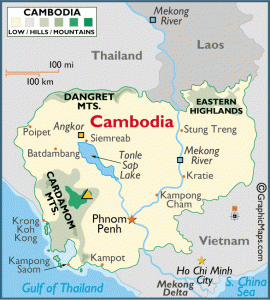 Short Term Response
The main issue he raised in the short term has been the displacement of people by flooding. To address this LWD has been working with to provide emergency food kits in two provinces of rice, cooking oil, ionic salt, a water purifier and mosquito nets.

Long Term Response
Currently LWD is helping to conduct a post-flood assessment over the next 4-6 months to determine the long term needs of the people in affected areas. Dr. Inn shared that the most likely needs will be around people's livelihood, mainly in agriculture. Since the rice crops have been affected, the response will probably focus on supplying rice seed. They also may distribute vegetable seed for home gardens and poultry for livelihood improvement. Overall Dr. Inn believes they have gotten past the worst of the disaster in Cambodia and LWD will now be focusing their energies on helping the affected people return to and rebuild their lives.

Update on Thailand
As to the situation in Thailand, their Disaster Prevention and Mitigation Department has reported 689 deaths and over 4.4 million people affected as of today. They also are reporting that heavy rains in the southern part of the country may lead to further flooding over the weekend. Dr. Inn also shared that with the flooding of Bangkok, much of the media attention has been focused on the urban areas and not on those affected in the rural parts of the country.

————-
Gifts to ELCA International Disaster Response allow the church to respond globally in times of need. Donate now.

Over the last three days I attended an LWF workshop in Dhaka, Bangladesh. The purpose was to bring communications personnel from agencies, like the ELCA, and country programs, like