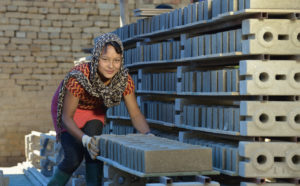 On April 25, 2015, around 11:55 a.m. local time, a 7.8-magnitude earthquake shook Nepal, with its epicenter approximately 43 miles from its capital city, Kathmandu. The earthquake was felt around the whole country, but the Kathmandu valley and western region of the country were hit hardest.
On May 12, 2015, just a little more than two weeks later, around 12:50 p.m. local time, another earthquake struck Nepal approximately 47 miles northeast of its capital, Kathmandu – an area already affected by the April 25 earthquake. The 7.3-magnitude earthquake, while still considered an aftershock of the previous quake, was followed by several strong aftershocks that continued to be felt in the region. More than 8,460 people were killed and more than 480,000 homes damaged or destroyed.
From the very beginning, Lutheran Disaster Response has been working with a network of partners who are actively engaged with communities on the ground. Within days of the first and second earthquake, resources were mobilized. In an interview, Dr. Prabin Manandhar, the Country Director for the Lutheran World Federation (LWF) Nepal and a native of the country, said, "The earthquake happened at 11:55 a.m. and I was in the office by 2 o'clock." Immediate distribution of ready-to-eat food, blankets, and hygiene kits was provided to households. Water filtration units and personal care kits were also a priority in the beginning stages of recovery.
Being dedicated to more than just the immediate recovery,  cash-for-work programs were initiated for debris cleanup and water maintenance. Small grants and training for self-help groups were organized and training in agriculture, livestock support and income generation took place in rural areas. Because much of the land was disrupted by the earthquake, support was given to farmers with seed distribution, irrigation projects, and soil management. Ten mini tractors were also supplied.
Now, 2 years later, we are still working with The Lutheran World Federation (LWF), United Mission to Nepal (UMN), Shanti Nepal and Lutheran World Relief (LWR), helping to rebuild communities and improve lives. While recovery of physical property is important for the safety of families who were affected by the earthquakes, care for the all-around well-being of those impacted is something that cannot be overlooked. "Before any of us, it is the people saving people. That happens not when you have resilient buildings," Dr. Manandhar said. " That happens when you have resilient people." To that end, Lutheran Disaster Response continues to engage in many forms.
WASH

Water, Sanitation, and Hygiene

Livelihood Projects

Educational opportunities, bee-keeping, etc.
Social Empowerment

Rebuilding Schools

9 Learning centers consisting of 14 buildings

Health (Shanti Nepal Hospital)

Upgrading facilities for disaster preparedness
expanding maternity ward
New emergency ward/equipment and outpatient facilities
*Most of our rebuilding efforts are being focused on the Dalit community in Nepal. The Dalit community is the lowest caste in the Hindu caste system and tends to be more vulnerable than other communities.
In devotions the morning of the anniversary, Rev. Y. Franklin Ishida, Area Director for Asia and the Pacific, said, "Sighing is an expression of uncontrolled letting go. In Nepal, the sighs of the people are heard, by us and by others." Thanks to the generosity of individuals and congregations all across this church, Lutheran Disaster Response is responding to the sighs of the people by investing $2.1 million in the second phase of recovery.
In a world full of groaning or sighing, we are thankful for the opportunity to accompany the people of Nepal through their sighs of suffering and pray that we all are opened to God's sighs of hope and new birth. As a church, we have been and will continue to walk with our siblings in Nepal, responding to the needs of our neighbors.
Be a part of the response:
Pray
Continue to pray for the people affected by the earthquakes, especially as they work to rebuild their homes and lives. Pray for staff that will work alongside survivors in communities affected.
Give
Your gifts are still needed. Gifts designated for the "Nepal Area Earthquake" will be used in full (100 percent) to assist those directly impacted until the response is complete. Gifts from people like you allow us to continue to serve those in need.
Connect
To learn more about the situation and the ELCA's response:
Sign up to receive Lutheran Disaster Response alerts.
Check the Lutheran Disaster Response blog.
All photos by ACT/ Paul Jeffrey