Dear Bishop-Elect Idalia and our Colleagues and Friends,
A year ago, Hurricane Maria hit the US Virgin Islands and Puerto Rico, devastating countless lives and destroying homes and properties. On this anniversary day, those who have lived through the storm may be haunted again by the horrific memories of the ordeal. Sadly, we know that for most survivors, recovery has yet to take place.
We are very grateful that all of you have courageously devoted yourself to be the source of hope and healing for those traumatized by the storm even as you too have been impacted deeply and personally. You are our inspirations.
Yesterday at the Chapel Service at ELCA Churchwide, the following prayer was offered:
Loving God, look with mercy on those who are harmed or displaced by Hurricane Florence
and those still recovering on the anniversary of Hurricanes Irma and Maria.
Give them your strength to meet the days ahead,
your peace, which surpasses all understanding,
and renewed hope for restoration and rebuilding.
Be with all who offer assistance; may your Spirit uphold them.
As you have made water a sign of your kingdom,
and of cleansing and rebirth,
grant your people vision to see new life on the other side of disaster.
May God's Comfort, Wisdom, Strength and Grace be with you all!
Peace,
Joe
---
Rev. Joseph Chu is the Associate Program Director for Lutheran Disaster Response – US.
---
Lutheran Disaster response, in our commit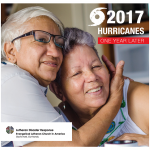 ment to the long-term recovery of Puerto Rico and other hurricane-impacted states/territories, has committed significant funding and other forms of support to help survivors create their own recovery plan and secure much needed resources, continued emotional and spiritual care for survivors and leaders in the response, and continued capacity building for our partners and affiliates on the ground.
To read our full report – 2017 Hurricanes – One Year Later, click here.
---
Be a part of the response:
Pray
Join us in prayer and partnership, and to help spread the word in your congregation. You can find additional resources for worship here.
Give
We invite you to stand by all the communities impacted by the recent hurricanes. Your gifts to Hurricane Relief ensure that our church will be able to provide help and hope for those affected by this disaster for years to come.
Connect
To learn more and Stay connected to the latest events and our response to this and other disasters: