On the evening Tuesday, May 21st, a storm dropped 6.5 inches of rain in just a few hours on areas of Frederick and Washington Counties in western Maryland. Local Lutheran Disaster Response affiliate, Diakon Lutheran Social Ministries reported that over 60 water rescues were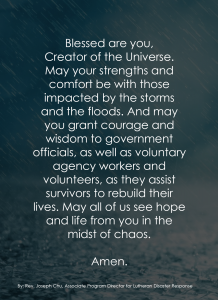 made and, more than 80 people were stranded for hours on a train when tracks were flooded and washed out. Hundreds of homes were flooded and many roads were flooded and/or destroyed. Initial estimates said around 100 homes were damaged, but that has since climbed to 350 homes.
This past Sunday, May 27th, a similar storm dumped 10.5 inches of rain in Howard and western Baltimore counties, resulting in tremendous flooding. News footage shows floodwaters raging down Main Street in Ellicott City — a similar event having occurred in 2016 — once again devastating the businesses along that stretch. There has also been some residential flooding. While Ellicott City has had news coverage, Catonsville and Oella in western Baltimore County were also particularly hard hit by this same storm when 10 inches of rain fell in 4 to 5 hours. There were multiple water rescues and many homes and businesses received significant water damage. Damage assessment is ongoing at this time.
Lutheran Disaster Response and our affiliate will continue to monitor the flooding. Please be in prayer with us for the impacted communities, their families and responders.
---
Be a part of the response:
Pray
Please pray for the people who have lost loved ones to disaster. May God's healing presence give them peace and hope in their time of need.
Give
Your gifts to respond to U.S. spring storms through Lutheran Disaster Response will work to bring God's hope, healing and renewal to those who are impacted by storms
Connect: 
Stay connected to the latest events and our response to this and other disasters: