Join us in welcoming Haemin Lee, the new director of ELCA World Hunger, who will lead the amazing team working with ELCA World Hunger's domestic and international grants! Welcome, Haemin!
A Greeting from Haemin Lee
Hi, my name is Haemin Lee, and I'm super excited to serve alongside you as Director of World Hunger! I was born and raised in Seoul, South Korea. When I was little (probably around three), I came across a pictorial biography of the famous missionary Dr. Albert Schweitzer. His story somehow challenged me so much, and since then, I have always wanted to participate in God's mission by sharing the love of Jesus Christ in both word and deed.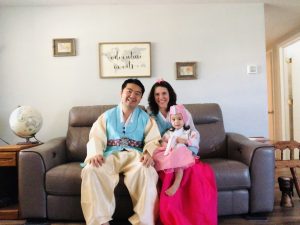 I completed my B.A. at Yonsei University, which was founded by Horace Underwood, an American Presbyterian missionary. During my college years, I had an opportunity to serve in England and Belgium through a global mission organization. Amid reaching out to Muslim neighbors with Christian friends from all over the world, I felt a strong call to serve God on a global scale. I came to the U.S. in 2002 with a dream to be better prepared to serve – without really knowing anyone in the U.S. and with my entire family back home in South Korea. It was a lonely journey at first, but by the grace of God I met some incredible friends along the way. I earned advanced degrees from Harvard (M.Div.) and Emory (Th.M; Ph.D) with a special focus on Christian Mission, Intercultural Studies and International Development. I was ordained in 2007 as a Presbyterian minister (PCUSA) and have served in various ministry areas, including congregational ministry, hospital chaplaincy and homeless ministry. During this time, God gave me a deep desire to serve the most vulnerable people around the world. This desire ultimately led me to engage in international evangelism and development mission through World Relief, Food for the Hungry International Korea, Presbyterian Mission Agency and Frontier Fellowship. Through these ministries, I traveled to more than 100 different countries across Africa, Asia and Latin America and had the privilege of overseeing numerous mission partnership programs and teaching at Kumi University in Uganda.
I met my amazing wife Nicole in South Africa at a mission conference when she was serving in Tanzania. We got married in her home state of Florida back in 2014 and welcomed a baby daughter, Katie Hayoung (meaning Glory to God in Korea!) in 2019. I like traveling (backpacking adventures!), languages, hiking, playing music and most of all, making new friends while learning about different cultures.
I am very excited to make a collective impact for God's Mission in our community and the world by collaborating with inspiring colleagues, churches, and community organizations through ELCA! 😊
Blessings, Haemin