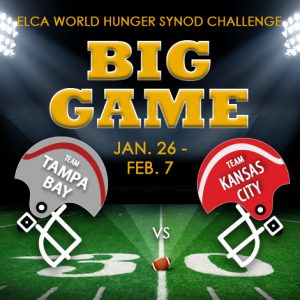 The Big Game Challenge has kicked off, and our church is racing toward the goal of ending hunger!
While you are cheering on your team and celebrating with family and friends— let's help tackle hunger together!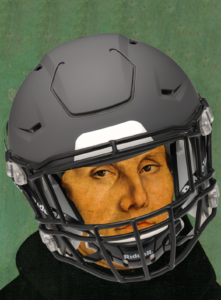 From kickoff to final whistle, Team Kansas City and Team Tampa Bay will seek to outdo one another for the sake of the gospel. The fans that donate the most through their team page to ELCA World Hunger by midnight Central time on February 7 will help their synod take home the title of ELCA World Hunger Champion — regardless of the outcome on the field. Whether your favorite formation is 3-4, 4-3, or 3:16, you can send your nickels and dimes to support your team!
Team Kansas City and Team Tampa Bay are currently neck-and-neck and asking for your support! You can support your team by visiting the ELCA World Hunger Big Game Synod Challenge 2021 fundraising page at ELCA.org/BigGame!
Check out this video of Bishop Susan Candea of the Central States Synod of the ELCA encouraging supporters:
And not to be outdone, the Florida-Bahamas Synod's Bishop Pedro Suárez is ready to prove that Team Tampa Bay has "the best football team and the most generous synod!"
Be sure to send us your game day photos, and may the best team win – so we can all tackle hunger together! #TeamTampaBay #TeamKansasCity #ELCAWorldHunger
Visit ELCA.org/BigGame to be part of the action!
(Thanks to Lizzy Croghan at Creative Coworking, Evanston, Ill., for the image of Martin Luther)