by: Molly Beck Dean, Gathering Director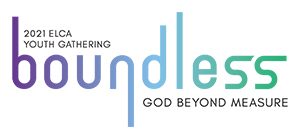 In April, a group of creative youth, young adults and adults gathered in Minneapolis to discern the theme for the 2021 Gathering. After reading through 2018 evaluations, listening to locals share about their city and much discussion about the spiritual lives of young people, the theme "boundless: God beyond measure" was chosen.
As I have pondered our theme over the last few months, it speaks to me more and more. It challenges me to think about how big God really is – from creation of the universe to crucifixion for sins, from death defying resurrection to the Spirit that continues to guide us today. It reminds me of the wonders of creation – certainly the beautiful Boundary Waters in northern Minnesota, but also rolling plains, dusty deserts, crashing waves of lakes and oceans, lush forests and majestic mountains. God knows no bounds. God is all powerful and all knowing.
Our theme makes the almost incomprehensible hugeness of God personal. In our scripture verse, Paul writes "I want you to know all about Christ's love, although it is too wonderful to be measured. Then your lives will be filled with all that God is." Christ's love for us is so abundant it can't be calculated, quantified or even estimated. A love that couldn't be contained in heaven so God came down and became human. A love so huge it was willing to suffer a gruesome death amongst taunts and jeers. A love so magnificent and glorious that death could not contain it and so Love was resurrected and changed everything humans knew about life, love and forgiveness.
To be honest, I don't know all about Christ's love or what it's like to live a life filled with all that God is. I am bound daily by my sins and weighed down by the struggles of our world. But I have caught glimpses of it. I have stood on the beach and been brought to tears by the beauty and vastness of the ocean God created. I have held each of my new babies and cried because I have been entrusted with two of God's miracles and in that moment knew a love greater than I could imagine. I have been in worship with a heart so full of the Spirit that my whole body danced in praise and my eyes glistened. I have been brought to my knees and cried the ugly cry over mistakes I've made and the wickedness that exists in the world, only to feel a calming in my heart and mind that could only be the forgiveness of God.
These brief moments of being filled with all that God is not only point me to the tissue box evidently, but give me hope for my life and our life together. God doesn't hoard God's boundless goodness, but rather shares it with God's beloved – us – in real ways.
Paul's words are my prayer for the young people of this Church.  As they prepare for this ministry and as they attend MYLE, the tAble and the Gathering, I hope they get closer to knowing all about Christ's love and what it can look like and feel like to live a life filled with all that God is.
Molly first attended the Gathering in 1997 and has served at the Gathering in various capacities ever since. She's worked at the congregational and synodical levels in youth ministry before transitioning to the Gathering Director in 2015. Molly enjoys beaches, spending time with her family and finding the best ice-cream shop in town.