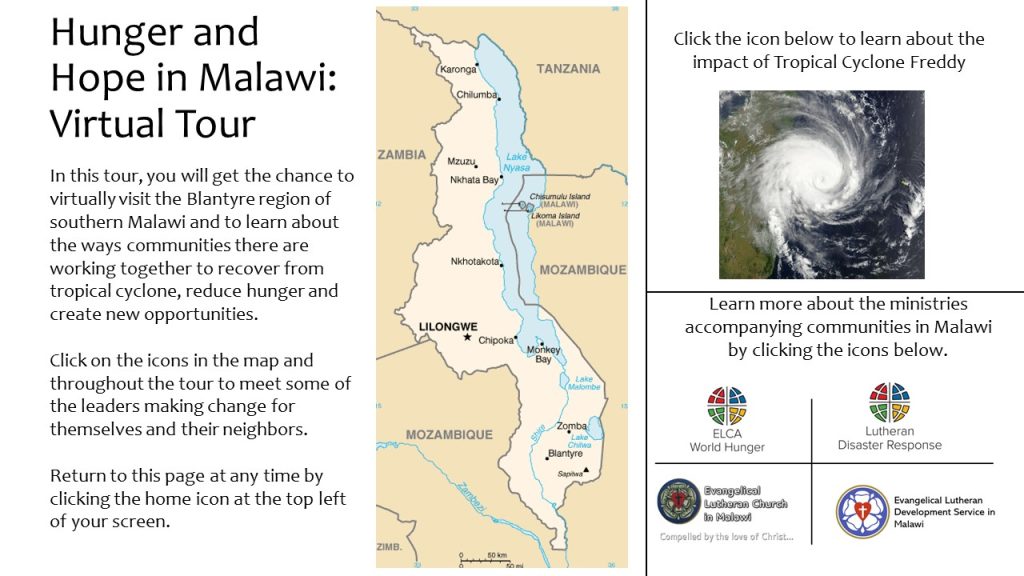 In March 2023, countries in southeastern Africa were hit by one of the most powerful cyclones in memory. Tropical Cyclone Freddy moved across Madagascar, Mozambique, Zambia, Zimbabwe, and Malawi, bringing torrential rain and powerful winds. Freddy was one of the longest-lasting tropical cyclones and most intense cyclones on record, generating accumulated cyclone energy (ACE) that the World Meteorological Organization has said was equivalent to a full North Atlantic hurricane season.
The storm created new challenges and worsened existing challenges in the country of Malawi, where over 70 percent of the population lives below the international poverty line of $1.90 per day.
Earlier this month, I had the opportunity to join colleagues from the ELCA in visiting the Blantyre region in southern Malawi to learn more about the impact of the cyclone and to hear about the ways the Evangelical Lutheran Church in Malawi (ELCM) and its development arm, the Evangelical Lutheran Development Service (ELDS), are accompanying communities impacted by hunger, poverty and disaster, with support from ELCA World Hunger and Lutheran Disaster Response.
The stories we heard of the cyclone were devastating. The people who spoke with us told of homes destroyed by winds and rock slides, livestock and fields of crops washed away, and family members lost in the floodwaters. The pain was palpable as they shared their stories and showed us piles of bricks that used to be their homes. Many of the people we met spoke of trauma and a need for both material goods, such as food and clothing, and spiritual and emotional care as they discern a path forward.
Yet, we also heard a bold commitment to continue moving forward, to replant and to rebuild, and to continue making progress against hunger and poverty. "We cannot remain idle," one woman said. A man from a community near Chimvu echoed her: "We have to keep going."
ELCM and ELDS are accompanying the communities as they forge a new path ahead. With support from Lutheran Disaster Response, ELCM and ELDS are distributing food in areas hit by Tropical Cyclone Freddy. The bags of meal and soya will not meet every need, but they will provide critical food for the hardest-hit communities. And, as we heard, the food is an important symbol of the ongoing presence of ELCM and ELDS within the communities. It is a sign that they are not alone.
Despite the challenges of recovery, the communities accompanied by ELDS and ELCM are also continuing the important long-term work of reducing food insecurity and poverty. With support from ELCA World Hunger, ELDS is working with communities to expand food production, support small businesses and strive for gender justice. Our group had the chance to visit newly planted fields of sweet potatoes and cassava, to learn about women-owned businesses and even to meet some young piglets.
There is much need in the communities we visited, but there are also so many assets and strengths to witness. The leaders in each community inspired us with their hope, determination, creativity and resilience that make it possible for this work to continue.
Below, you have the chance to virtually witness some of this for yourself through a virtual tour of the communities in Zomba and Phalombe. In this virtual tour, you will be able to meet some of the people we visited, to watch as one leader describes her fuel-efficient wood-burning cookstove, to hear the exuberant singing and dancing of the communities and to learn more about how ELCA World Hunger, Lutheran Disaster Response, ELCM and ELDS are partnering together to accompany our neighbors in Malawi.
The virtual tour is accessible on computer or mobile device. Each text box also has an icon for a screen reader. Click on the picture or link below to get started.  Once the tour opens, scroll down just a bit to find a button allowing you to view it full-screen. To navigate, simply click any of the pulsing icons on the pictures. Each icon will pull up a video, picture or text box. You can use the back arrow and the home icon at the top left of the screen to go back or to re-start.
May the people and the stories you encounter in the tour inspire your ongoing prayers for continued recovery from Tropical Cyclone Freddy and inspire your hope and active support through the strength and courage of our neighbors in Malawi.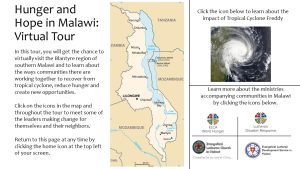 Ryan P. Cumming, Ph.D., is the director of education and networks for the Building Resilient Communities team in the ELCA.