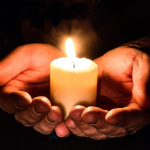 "For what shall we pray?" is a weekly post inviting individuals, groups, and congregations to lift up our world in prayer. This resource is prepared by a variety of leaders in the ELCA and includes prayer prompts, upcoming events and observances, and prayer suggestions from existing denominational worship materials. You are encouraged to use these resources as a starting point, and to adapt and add other concerns from your local context. More information about this resource can be found here.
Prayer prompts:
For peace among nations and an end to violence, especially in Israel and Palestine, Russia and Ukraine, Syria, Iraq, Iran, and the Nagorno-Karabakh region…
For residents of Grindavik, Iceland and all threatened by volcanic activity…
For rescue operations following a tunnel collapse in northern India…
For victims of the bus crash east of Columbus, OH and for their families, classmates, and community…
For labor strikes and for equitable resolution to contract negotiations…==
Events and observances:
Monthly Observances in November: American Indian and Alaska Native Heritage Month
Elizabeth of Hungary, renewer of society, died 1231 (Nov 17)
World Peace Day (Nov 17)
Thanksgiving Day (Nov 23)
Clement, Bishop of Rome, died around 100 (Nov 23)
Miguel Agustín Pro, martyr, died 1927 (Nov 23)
Prayers from ELCA resources:
A set of worship resources for the crisis in the Holy Land is now available on ELCA.org. Several prayers are provided that could be used during the prayers of intercession or at other times, in public worship or for devotional use at home or in other settings. Additions may be made to these resources in the coming days and weeks. PDF DOC
A prayer for peace (ELW p. 76)
Gracious and holy God, lead us from death to life, from falsehood to truth. Lead us from despair to hope, from fear to trust. Lead us from hate to love, from war to peace. Let peace fill our hearts, our world, our universe; through Jesus Christ, our Savior and Lord. Amen
A prayer for emergency workers (ELW p. 85)
God of earth and air, water and fire, height and depth, we pray for those who work in danger, who rush in to bring hope and help and comfort when others flee to safety, whose mission is to seek and save, serve and protect, and whose presence embodies the protection of the Good Shepherd. Give them caution and concern for one another, so that in safety they may do what must be done, under your watchful eye. Support them in their courage and dedication that they may continue to save lives, ease pain, and mend the torn fabric of lives and social order; through Jesus Christ, our Savior and Lord. Amen.
—
ELW = Evangelical Lutheran Worship
ACS = All Creation Sings: Evangelical Lutheran Worship Supplement
Additional topical prayers are found in Evangelical Lutheran Worship (pp. 72–87) and All Creation Sings (pp. 46–55), as well as in other resources provided in print and online at sundaysandseasons.com.
Crafted intercessions for every Sunday and festival are provided in the Sundays and Seasons worship planning guide published in-print and online by Augsburg Fortress. Further assistance for composing prayers of intercession can be found here: Resources for Crafting Prayers of Intercession
Prayer Ventures, a daily prayer resource, is a guide to prayer for the global, social and outreach ministries of the ELCA, as well as for the needs and circumstances of our neighbors, communities and world.