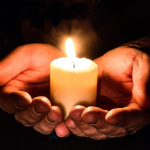 "For What Shall We Pray?" is a weekly post inviting individuals, groups, and congregations to lift up our world in prayer. This resource is prepared by a variety of leaders in the ELCA and includes prayer prompts, upcoming events and observances, and prayer suggestions from existing denominational worship materials. You are encouraged to use these resources as a starting point, and to adapt and add other concerns from your local context. More information about this resource can be found here.
Prayer prompts:
For fair and free elections and political stability in Turkey, Thailand and Cambodia…
For a timely resolution of the debt ceiling crisis…
At this 75th anniversary of the Palestinian displacement, prayers peace in Palestine and Israel and for the restoration of Palestinian homelands…
For refugees and migrants fleeing violence and economic hardship…
For immigration reform in the United States and for a humane and generous policy towards refugees and migrants…
For relief for the people of Myanmar impacted by Cyclone Mocha…
For peace in Sudan, Ukraine, Somalia, and Senegal…
In thanksgiving for all who are graduating and ending academic years, and for God to bless them in their next endeavors
For the dignity and well-being of our elders, including care for physical, emotional, relational, and economic health…
For strong communities that love, honor, and advocate for neighbors of all races, classes, gender identities, sexualities, ages, and abilities…
Events and observances:
Monthly observances in May: Asian Pacific Heritage Month; Jewish American Heritage Month; Mental Health Awareness Month; Older American Month; Arthritis Awareness Month, Women's Health Care Month
Ascension of Our Lord (May 18)
Erik, King of Sweden, martyr, died 1160 (May 18)
Helena, mother of Constantine, died around 330 (May 21)
Nicolaus Copernicus, died 1543; Leonhard Euler, died 1783; scientists (May 24)
John Calvin, renewer of the church, died 1564 (May 27)
Prayers from ELCA resources:
Resources for responding to gun violence and national distress:
Prayer for Lament (ACS p. 61)
Service After a Violent Event (ACS p. 64)
Prayers for Civic Life, Government, and the Nations (ACS p. 48-50)
A prayer for faith and science (ACS p. 48)
God of mystery, you  made the universe with its marvelous order and chaos, its atoms, worlds, and galaxies, and the infinite complexity of living creatures. We give you thanks for all who study the mysteries of creation and ask that their work may increase our curiosity, wonder, and joy, that we may come to know you more truly and serve you more humbly; in the name f Jesus Christ, your Wisdom and your Word. Amen.
Prayer for Ascension Day (ELW p.35)
Almighty God, your blessed Son, our Savior Jesus Christ, ascended far above all heavens that he might fill all things. Mercifully give us faith to trust that, as he promised, he abides with us on earth to the end of time, who lives and reigns with you and the Holy Spirit, one God, now and forever. Amen.
—
ELW = Evangelical Lutheran Worship
ACS = All Creation Sings: Evangelical Lutheran Worship Supplement
Additional topical prayers are found in Evangelical Lutheran Worship (pp. 72–87) and All Creation Sings (pp. 46–55), as well as in other resources provided in print and online at sundaysandseasons.com.
Crafted intercessions for every Sunday and festival are provided in the Sundays and Seasons worship planning guide published in-print and online by Augsburg Fortress. Further assistance for composing prayers of intercession can be found here: Resources for Crafting Prayers of Intercession
Prayer Ventures, a daily prayer resource, is a guide to prayer for the global, social and outreach ministries of the ELCA, as well as for the needs and circumstances of our neighbors, communities and world.
Image from All Creation Sings, © 2020, Augsburg Fortress. All rights reserved. Used with permission.