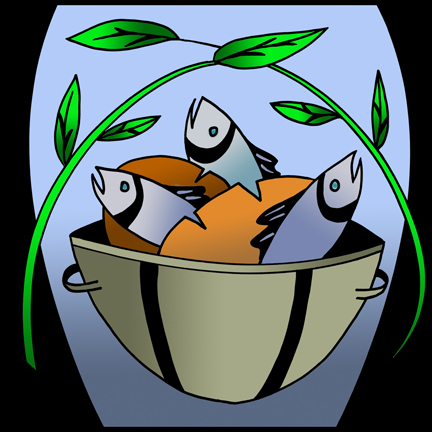 Worship in the Home
Ninth Sunday after Pentecost
Lectionary 17, Year B
July 25, 2021
In this time of world-wide crisis, congregations throughout this church are not able to gather for worship as the body of Christ. While you cannot be together in person, we can hear the word of God and hold each other in prayer. We offer this brief resource as an aid for prayer in the home. As with our prayers in the gathered assembly for worship, you are encouraged to prepare or adapt them locally for your context.
Since spring 2020, "Worship in the Home" has been a resource for any who could not join in-person or virtual worship during this pandemic time. The final installment of "Worship in the Home" will be released on Aug. 31 (for Sunday, Sept. 5). Weekly prayers of intercession continue to be provided with a subscription to SundaysandSeasons.com. As always, you are encouraged to adapt it for local use. Occasional topical worship resources can be found at ELCA.org/worship.
Find a peaceful place to pray, perhaps a table. You may wish to light a candle and place a bowl of water in remembrance of your baptism. One person may lead this acclamation and then pray the Prayer of the Day.
The grace of our Lord Jesus Christ, the love of God, and the communion of the Holy Spirit be with us all.
Amen.
Let us pray.
A brief silence is kept before the prayer.
Gracious God, you have placed within the hearts of all your children a longing for your word and a hunger for your truth. Grant that we may know your Son to be the true bread of heaven and share this bread with all the world, through Jesus Christ, our Savior and Lord.
Amen.
Then the readings for this day may be read, as follows:
First Reading: 2 Kings 4:42-44
42A man came from Baal-shalishah, bringing food from the first fruits to Elisha, the man of God: twenty loaves of barley and fresh ears of grain in his sack. Elisha said, "Give it to the people and let them eat." 43But his servant said, "How can I set this before a hundred people?" So he repeated, "Give it to the people and let them eat, for thus says the LORD, 'They shall eat and have some left.' " 44He set it before them, they ate, and had some left, according to the word of the LORD.
Word of God, word of life.
Thanks be to God.
The Psalm may be sung or read in response to the First Reading.
Psalm 145:10-18
10All your works shall praise | you, O LORD,
and your faithful | ones shall bless you.
11They shall tell of the glory | of your kingdom
and speak | of your power,
12that all people may know | of your power
and the glorious splendor | of your kingdom.
13Your kingdom is an everlasting kingdom; your dominion endures through- | out all ages.
You, LORD, are faithful in all your words, and loving in | all your works.
14The Lord upholds all | those who fall
and lifts up those who | are bowed down.
15The eyes of all wait upon | you, O LORD,
and you give them their food | in due season.
16You open | wide your hand
and satisfy the desire of every | living thing.
17You are righteous in | all your ways
and loving in | all your works.
18You are near to all who | call upon you,
to all who call up- | on you faithfully.
Second Reading: Ephesians 3:14-21
14For this reason I bow my knees before the Father, 15from whom every family in heaven and on earth takes its name. 16I pray that, according to the riches of God's glory, God may grant that you may be strengthened in your inner being with power through God's Spirit, 17and that Christ may dwell in your hearts through faith, as you are being rooted and grounded in love. 18I pray that you may have the power to comprehend, with all the saints, what is the breadth and length and height and depth, 19and to know the love of Christ that surpasses knowledge, so that you may be filled with all the fullness of God.
20Now to the one who by the power at work within us is able to accomplish abundantly far more than all we can ask or imagine, 21to God be glory in the church and in Christ Jesus to all generations, forever and ever. Amen.
Word of God, word of life.
Thanks be to God.
Gospel: John 6:1-21
The holy gospel according to John.
Glory to you, O Lord.
1Jesus went to the other side of the Sea of Galilee, also called the Sea of Tiberias. 2A large crowd kept following him, because they saw the signs that he was doing for the sick. 3Jesus went up the mountain and sat down there with his disciples. 4Now the Passover, the festival of the Jewish people, was near. 5When he looked up and saw a large crowd coming toward him, Jesus said to Philip, "Where are we to buy bread for these people to eat?" 6Jesus said this to test Philip, for he himself knew what he was going to do. 7Philip answered him, "Six months' wages would not buy enough bread for each of them to get a little." 8One of his disciples, Andrew, Simon Peter's brother, said to him, 9"There is a boy here who has five barley loaves and two fish. But what are they among so many people?" 10Jesus said, "Make the people sit down." Now there was a great deal of grass in the place; so they sat down, about five thousand in all. 11Then Jesus took the loaves, and when he had given thanks, he distributed them to those who were seated; so also the fish, as much as they wanted. 12When they were satisfied, he told his disciples, "Gather up the fragments left over, so that nothing may be lost." 13So they gathered them up, and from the fragments of the five barley loaves, left by those who had eaten, they filled twelve baskets. 14When the people saw the sign that he had done, they began to say, "This is indeed the prophet who is to come into the world."
15When Jesus realized that they were about to come and take him by force to make him king, he withdrew again to the mountain by himself.
16When evening came, his disciples went down to the sea, 17got into a boat, and started across the sea to Capernaum. It was now dark, and Jesus had not yet come to them. 18The sea became rough because a strong wind was blowing. 19When they had rowed about three or four miles, they saw Jesus walking on the sea and coming near the boat, and they were terrified. 20But Jesus said to them, "Here I AM; do not be afraid." 21Then they wanted to take him into the boat, and immediately the boat reached the land toward which they were going.
The gospel of the Lord.
Praise to you, O Christ.
Reflection
Having read these readings, think on this:
How can we find food enough to feed all the hungry world? And, though we are ourselves not often as physically hungry as countless people are, do we realize we also are part of that world, needing help? In the story, Jesus feeds a multitude; like Elijah he uses just a little of the humble bread of the poor. But Jesus is more than a miracle-working prophet. He is himself the very bread that we need. The wilderness blossoms; the sea is made a place to walk; the God of the old Passover story — I AM — is with us. Yet when they want to make him a king, he hides, just as his divinity will later be hidden on the cross. In faith, we know that the bread of God comes to us from that cross — in the meal that witnesses to his death and resurrection, as also in the word that is full of God's presence and love. By the Spirit working in word and sacrament, Christ comes to dwell in our hearts and we are filled with the fullness of God. Then we are made to be what we hear and eat. As the church, we take up the 12 baskets to distribute the bread of love in the needy world.
If you have a hymnal, you may now sing or read "Break Now the Bread of Life" (Evangelical Lutheran Worship 515), "Jesus, Priceless Treasure" (Evangelical Lutheran Worship 775). Selected hymns are provided below for those without a hymnal at home.
Then pray these intercessions:
Rooted in Christ and grounded in the Spirit, we offer our prayers to God, responding to each petition with words from today's psalm, "You are loving in all your works."
A brief silence.
Caring for the church throughout the world, we pray for ecumenical cooperation among the churches; for sustenance for assemblies that have been devastated by the coronavirus; and for insight as congregations resume their local programing.
A brief silence.
Be near to all who call upon you, faithful God:
You are loving in all your works.
Thanking God for summertime in nature, we pray for fruitful fields and healthy animals; for rain to nourish lands that face wildfires, drought, or excessive heat; and for lakes, rivers, and oceans to be free from pollution.
A brief silence.
Be near to all who call upon you, mighty God:
You are loving in all your works.
Mindful of the family of nations, we pray for all who govern; for Afghanistan, Ethiopia, South Africa, and other nations that are experiencing violence; for Germany and other nations devastated by climate change; for an increase of justice in our nation and around the world; and for the protection of the poor.   
A brief silence.
Be near to all who call upon you, righteous God:
You are loving in all your works.
On this Parents' Day, we pray for all parents, that they find joy in life with their children and resilience for their tasks. And on this commemoration of the apostle James, we pray for those who in his memory go on religious pilgrimages, that they be kept safe in their travels and be drawn ever closer to your heart.
A brief silence.
Be near to all who call upon you, gracious God:
You are loving in all your works.
Aware of all who suffer, we pray for a world still facing the coronavirus; for persons without employment, or adequate housing, or wholesome meals, or available health care, or the embrace of loved ones. We pray for the residents of Tokyo and for the First Nations of Canada. We pray for all with hidden sorrows; for those who live in fear; and for those we name here before you. . .
A brief silence.
Be near to all who call upon you, compassionate God:
You are loving in all your works.
Confident of your love for each of us, we pray for ourselves, that we be strengthened in our inner being, and that you receive our prayers.
A longer period of silence.
Be near to all who call upon you, mothering God:
You are loving in all your works.
Grateful for the witness of all who died in the faith, especially James the apostle and those we name here. . ., we pray that at the end we join with all the saints to share in your everlasting banquet.
A brief silence.
Be near to all who call upon you, eternal God:
You are loving in all your works.
We lift these and all our prayers to you, O God, trusting in your mercy, through Jesus Christ, our Savior and Lord.
Amen.
If you have a hymnal, you may now sing or read "Jesus Calls Us; o'er the Tumult" (Evangelical Lutheran Worship 696), "Lord, Take My Hand and Lead Me" (Evangelical Lutheran Worship 767). Selected hymns are provided below for those without a hymnal at home.
Jesus Calls Us; o'er the Tumult
Then conclude with these prayers:
Let us pray.
A brief silence is kept before the prayer.
Blessed Lord God, you have caused the holy scriptures to be written for the nourishment of your people. Grant that we may hear them, read, mark, learn, and inwardly digest them, that, comforted by your promises, we may embrace and forever hold fast to the hope of eternal life, through your Son, Jesus Christ, our Lord.
Amen.
Gathered into one by the Holy Spirit, let us pray as Jesus taught us:
Our Father in heaven,
hallowed be your name,
your kingdom come,
your will be done,
on earth as in heaven.
Give us today our daily bread.
Forgive us our sins
as we forgive those who sin against us.
Save us from the time of trial,
and deliver us from evil.
For the kingdom, the power,
and the glory are yours,
now and forever.
Amen.
Then speak the Blessing:
The blessing of God,
who provides for us, feeds us, and journeys with us,
+ be upon you now and forever.
Amen.
Devotional Music Links: For your individual or group devotion, you may choose to listen to the following choral recordings made available through Augsburg Fortress: "Praise, My Soul;" "Jesus, Feed Us;" "Christ, Solid Rock."
Readings for the Week:
Monday Psalm 111. Tuesday Romans 22-33. Wednesday (commemoration of Johann Sebastian Bach, 1750; Heinrich Schütz, 1672; George Frederick Handel, 1759; musicians) Isaiah 25:6-10a. Thursday (commemoration of Mary, Martha, and Lazarus of Bethany; Olaf, King of Norway, martyr, 1030) Psalm 78:23-29. Friday 1 Corinthians 11:27-34. Saturday Exodus 13:3-10. Tenth Sunday after Pentecost Exodus 16:2-4, 9-15; Psalm 78:23-29; Ephesians 4:1-16; John 6:24-35.
Visit ELCA.org/Lectionary for a full listing of readings assigned to each day.
Daily Prayer Resources are available, including simple forms of Morning, Evening, and Night Prayer; Responsive Prayer; and prayers for mealtimes and other occasions.
Due to copyright restrictions, we are only able to provide downloadable hymns that are in the public domain and selected hymns for limited use. To purchase copies of Evangelical Lutheran Worship and All Creation Sings for the home, visit the Augsburg Fortress website or call 1-800-328-4648. Selected hymns from All Creation Sings are provided for limited use.
Reflection text: Gordon Lathrop. Intercessory Prayer: Gail Ramshaw.
Portions from Evangelical Lutheran Worship, All Creation Sings, and sundaysandseasons.com © 2021 Augsburg Fortress. All rights reserved. Used with permission.
Readings from Readings for the Assembly © 1995, 1996, 1997 Augsburg Fortress. Citations from the Revised Common Lectionary © 1992 Consultation on Common Texts. Scripture quotations from NRSV Bible, Copyright © 1989, Division of Christian Education of the National Council of the Churches of Christ in the United States of America, adapted and edited with permission by Gordon Lathrop and Gail Ramshaw.