Advocacy is one of the most important actions we can take to end hunger and poverty. It's also deeply embedded in many faith traditions, including Lutheranism. From biblical figures like Esther and Nehemiah to Martin Luther's calls for civic justice, there is a long and rich history of advocacy within our shared traditions. Advocacy is not merely something the church does but a central part of who the church is. And when it comes to hunger and poverty, working toward just public policies is a critical step toward real, lasting change.
But what is advocacy, and how do we get started?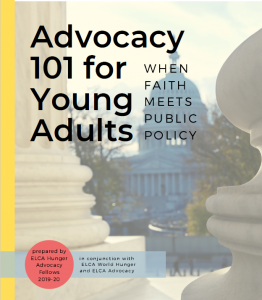 "Advocacy 101 for Young Adults: When Faith Meets Policy" is a new guide prepared by Hunger Advocacy Fellows in tandem with ELCA Advocacy and ELCA World Hunger. The easy-to-use resource is divided into four sessions and is designed for use with young adult groups on college campuses, in congregations and in other settings. The guide includes insights from leaders, lessons from local, state, and federal advocacy, and activities to help participants learn more about what advocacy is and what it means for them and their communities.
Each session of the guide introduces one aspect of faith-based advocacy, and each features an audio story of a leader that takes participants deeper into the theme of the session. Jeanine Hatcher from Michigan, for example, tells her story of advocating for fair pricing and access to medication she and others need to manage lupus during the COVID-19 pandemic. In the third session, Roberta Oster of the Virginia Interfaith Center for Public Policy talks about the importance of working together toward common goals.
The sessions include interactive activities that invite participants to learn more about advocacy as a method and about the ways policies impact their own lives and communities, with tips on how to adapt the activities for virtual settings.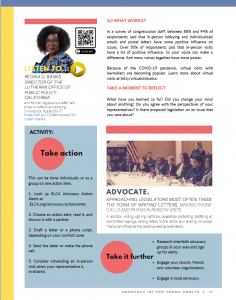 The four sessions in "Advocacy 101 for Young Adults" are:
The full guide is available for download from the resource pages of ELCA World Hunger and ELCA Advocacy. You can jump to audio files from within the guide, using hyperlinks or QR codes. The guide also contains printable transcripts of each audio segment.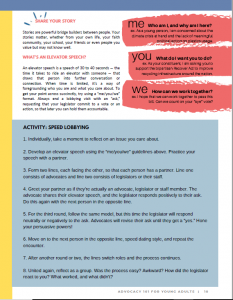 Meeting the immediate needs of our neighbors is an important part of addressing hunger and poverty. But long-term change will require just, fair and inclusive public policies that protect the common good and create opportunities for the well-being of all. "Advocacy 101 for Young Adults" is a great place to start to learn how you can make a difference!
For more information about ELCA World Hunger resources, please contact Ryan Cumming, program director of hunger education, at Ryan.Cumming@elca.org.
Interested in advocacy and the important policies that impact our neighbors? Sign up for e-news and action alerts from ELCA Advocacy at ELCA.org/advocacy/signup.