by: Brittany Horton
Psalm 139:14 says "I praise you because I am fearfully and wonderfully made; your works are wonderful, I know that full well."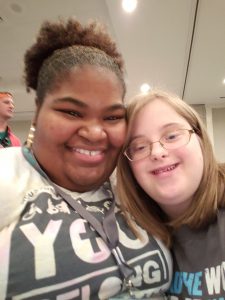 This verse is a constant reminder that God makes no mistakes. We are all made in the image of God just as He intended for us to be. As someone who has 50% hearing loss in both ears, I often thought people were staring at my hearing aids or making fun of the way I talked even though my disability was not as visible as others. When I got older, I became more comfortable with who I was and my growing faith played an important role in that.
Being a part of the tAble planning team was an amazing experience. Not only was I able to be a part of something bigger than myself but I was able to empower, motivate and love on others that may have experienced some of the same things I went through as a youth. When I was invited for the tAble I was not prepared for the life changing experiences and many friendships I would soon develop. I was excited to help others shine despite their differences. 
The tAble brought about a spiritual awakening that I did not even know I had. My only mission since then has been to do God's work the best I know how and to love everyone the same. No matter what we are facing, God always finds several ways to show you that you are exactly where you are supposed to be in that moment. The tAble was an experience of a lifetime and I am glad to have been a part of it. Just like we encouraged these young people to be their true authentic selves, I want each of you to understand that God loves you just the way you are. 
Brittany Horton is a Detroit native and have been doing youth empowerment and advocacy work for the last seven years. She has a strong background in mentoring and community involvement. Brittany enjoys reading, swimming, listening to music, spending time with her family and friends as well as sharing her gifts through various ministries in her church.