One of the many ways we live out our faith in action is through volunteering. There are many different ways that this can be done through the Gathering and what better place to do it than in New Orleans with thousands of your best friends! Check out the Gathering's website for more information on how to get involved as a volunteer. 
Learn how Anna went from being participant to volunteer and what that experience has meant to her—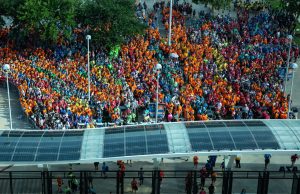 Hello! My name is Anna Thompson and I attended the 2009 Gathering in New Orleans as a youth participant. That was the first time I understood just how big the ELCA is. It was wonderful to be surrounded by other young people living their faith out loud just like I was. 
I volunteered in 2012, again in New Orleans, while I was in college. I was so excited to be able to help facilitate the experiences I'd had just three years before.
In 2018, I was able to volunteer again. I'd moved to Texas and Houston was only a 5 hour drive away. I was in a different place in my life, as a full-fledged adult this time, but I still had an amazing experience. Plus, I got to connect with friends from previous Gatherings, my home congregation, synod, and college! 
Why do you like to volunteer? 
I love volunteering at the Gathering because I love getting to help pull it off. The Gathering was a key moment in my high school life and I love knowing that I'm a small piece in that puzzle for the new generation. This cycle, I'll attend as an adult leader for my congregation in Fort Worth, TX. I'm excited to experience the Gathering from a 3rd perspective and help the youth from my congregation experience their first Gathering!
What's one thing you're looking forward to in New Orleans? 
I'm looking forward to walking down Canal Street after Mass Gathering, especially closing worship. The rainbow of shirts on display as we are physically, and theologically, sent out into the world is a memory I treasure of my previous two Gatherings in New Orleans!
Fill in the Blank: "I am Created to Be Joyful! " 
Written by: Bobbi Cyr (she/her)