ELCA Advocacy Office, Washington, D.C.
The Rev. Amy Reumann, director
PRAY. FAST. ACT: Our next centering day to #PrayFastAct with the Episcopal Church is Sunday, Oct. 21. The focus this month is on holistic investments in infrastructure programs and ensuring public works assist communities in the greatest need.
The U.S. has a long history of investing in communities across the nation, leaving a foundation that is still in much use today. However, as lawmakers discuss reinvesting in our deteriorating infrastructure, there is a considerable risk that new gains will not be implemented equitably in spaces that need revitalization the most. As stakeholders and drivers of local vitality, places of worship and faith activists can play a critical role in supporting good stewardship of investments and programs that contribute to our infrastructure.
VOTER REGISTRATION: The U.S. mid-term elections are only weeks away, and voter registration deadlines are fast approaching in many states. Churches and synods can be effective places in expanding civic engagement—and ministry outreach becomes even more critical as deadlines loom near. Congregations can learn more about hosting a voter registration drive and other activities at the ELCAvotes webpage.
A new ELCAvotes Homeless Resource has tips and recommendations for congregations inspired to expand voter engagement. Churches engaged in the margins and faith activists are often the best positioned, and sometimes only, means to expand voter outreach to people struggling with homelessness.
PUBLIC CHARGE RULE: Last month the Department of Homeland Security shared a proposed rule that could make it harder for immigrants who receive public benefits to obtain green cards. This ruling expands what it means to be a "public charge," those who have to rely on public assistance to support themselves and their families. If implemented, it could deny immigrants legal status if they or their dependents have used benefits, such as SNAP or Medicaid. Many civil rights and faith groups have already denounced the effort, concerned that the proposal would limit access to citizenship for lower-income immigrants.
ELCA Advocacy and ELCA World Hunger, in partnership with Lutheran Immigration and Refugee Service, hosted a webinar discussing the ruling and the specific concerns of the faith community. The rule will have a 60-day public comment period. Be sure to follow ELCA Advocacy in the coming weeks for more information and ways to take action.
FAMILY SEPARATION: Many activists in the ELCA Advocacy network participated in an interfaith national call-in day on Sept. 26 to reject family detention. The call-in to lawmakers highlighted the faith community's concern with separating families and brought attention to alternatives to detention. While new policy changes that harm children and families seeking protection in the U.S. are implemented, Congress has an important role to play in allocating funds for the Department of Homeland Security.
FARM BILL UPDATE: Despite efforts by leadership in the House and Senate Agriculture committees, Congress failed to reauthorize the farm bill by the Sept. 30 deadline. With the prior law now expiring, dozens of programs will stop and many others placed on hold. Long-standing authorized programs such as crop insurance and SNAP will continue, as long as they are not changed.
Earlier this month, ELCA Advocacy shared a blog on mental health in farming communities and how the farm bill plays a critical role in shaping rural life. Be on the lookout for upcoming action on the farm bill and other stories in the coming weeks.
Lutheran Office for World Community, United Nations, New York, N.Y.
Dennis Frado, director
U.N. HIGH LEVEL MEETING TO END TUBERCULOSIS: Lutheran Office for World Community (LOWC) staff attended the first-ever U.N. General Assembly high-level meeting on tuberculosis (TB), held in New York on Sept. 26 under the theme "United to End TB: An Urgent Global Response to a Global Epidemic." The World Health Organization (WHO) sounded the alarm that countries are not doing enough to end tuberculosis – the world's deadliest infectious disease. During the high-level meeting, Deputy Secretary-General Amina Mohammed described tuberculosis as a "vicious epidemic," which infects some 10.4 million people across the world and is fueled by poverty, inequality, migration and conflict. To end the epidemic she urged increased funding, securing the best scientific data, making informed decisions and empowering communities, among other things. The meeting concluded with the adoption of an ambitious political declaration on tuberculosis, endorsed by heads of state.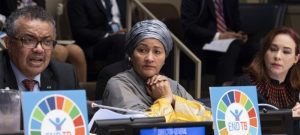 U.N. Photo/Eskinder Debebe
Deputy Secretary-General Amina Mohammed (center) at the first-ever high-level meeting on the fight against tuberculosis. Also pictured are Tedros Adhanom Ghebreyesus (left), director-general of the World Health Organization (WHO); and María Fernanda Espinosa Garcés, president of the 73rd session of the General Assembly.
On Sept. 27, LOWC staff, together with other faith leaders and health service providers, joined their voices and committed to combat the spread of HIV and AIDS and tuberculosis at an interfaith prayer breakfast on building partnerships to end these diseases in children and adolescents. The breakfast was organized by the World Council of Churches-Ecumenical Advocacy Alliance, in partnership with UNAIDS, the (U.S.) President's Emergency Plan for AIDS Relief (PEPFAR) and the U.N. Interagency Task Force on Religion and Development.
SIDE-EVENT: TIME TO ACT ON GLOBAL MENTAL HEALTH: Near the start of the 73rd session of the General Assembly, a side-event took place to raise awareness about mental health. Organized by the Permanent Missions of Ecuador, Canada, Bahrain, Belgium and the Netherlands, as well as the WHO and United for Global Mental Health, several leaders outlined their will to strengthen mental health care in their countries.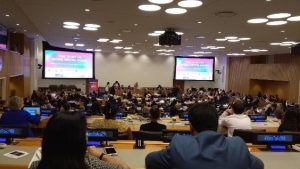 Health care ministers from these countries noted that general health care that does not include attention to mental health can never be holistic. The key to good mental health care is early protection, prevention and the reduction of stigma.
U.S. FUNDING FOR AUGUSTA VICTORIA HOSPITAL IN PERIL: In response to media reports on Sept. 7 that the State Department, through the U.S. Agency for International Development, would discontinue its financial support to Augusta Victoria Hospital and five other East Jerusalem hospitals, the Peace Not Walls campaign, an ELCA program, issued an action alert. It appeals to ELCA members to call the White House hotline (202-456-1111) and use the comments page to urge the president to order the release of the $25 million for Augusta Victoria and the other hospitals, and to urge that senators and representatives contact the White House as well. Earlier in the month, Presiding Bishop Elizabeth Eaton wrote to Secretary of State Mike Pompeo about the matter. As of the end of September, the situation had not appreciably changed as no official notification had been given to the hospitals as to whether or not the funds would be forthcoming. Continued advocacy is welcome.
California
Mark Carlson, Lutheran Office of Public Policy – California (LOPP-CA)                 lutheranpublicpolicyca.org
2018 LEGISLATIVE ACTION CONCLUDED: Sept. 30 was the deadline for departing Gov. Jerry Brown to take action on bills passed in the two-year session. With considerable fanfare, he signed SB 100 (September Advocacy Update), placing California on a path to 100 percent clean electrical energy by 2045.  He signed several other LOPP-CA-supported bills related to protecting California's coast from any new federal offshore oil leases, and expanding environmental justice protections for disadvantaged communities.  Of other bills supported by LOPP-CA, he signed measures enhancing disclosure of campaign contributions for social media political advertising, narrowing the sweep of the "felony murder rule" that has significant racial disparities, and requiring greater disclosure of video footage and personnel information in police deadly force incidents.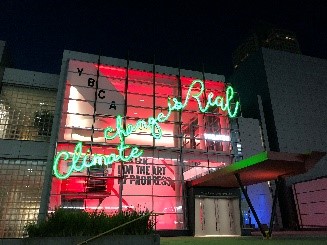 Sign at Global Climate Action Summit
GLOBAL CLIMATE ACTION SUMMIT: LOPP-CA was part of the leadership team for Lutheran-hosted "Talanoa Dialogue" events on "Loss & Damage" and "Just Transition," held at Grace Cathedral during the Global Climate Action Summit in San Francisco.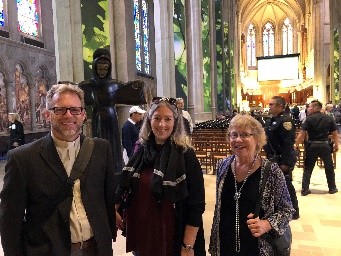 The Rev.  Dan Smith (left), Mary Shaima and Joann Anderson.
2018 BALLOT MEASURES: Work in the next month is focused on the 11 measures on the November ballot, with housing the top priority.
NEW BOOK: Retired U.S. Rep. Lois Capps' (Santa Barbara) new book, Keeping Faith in Congress – Why Persistence, Compassion, and Teamwork Will Save Our Democracy, was published in September (Fortress Press). LOPP-CA had been involved in encouraging Capps to pursue the book project as she retired from Congress two years ago. She is a former board member of Pacific Lutheran Theological Seminary, Berkeley, Calif., and an alumna of Pacific Lutheran University, Tacoma, Wash., and Yale Divinity School, New Haven, Conn.
Colorado
Peter Severson, Lutheran Advocacy Ministry–Colorado                                     lam-co.org
BALLOT MEASURE ADVOCACY: Colorado ballots will be in the mail in just two and a half weeks' time. Voters will have plenty of time to fill them out, which is why Lutheran Advocacy encourages all voters to vote ballot measures first! There are 13 items on the statewide ballot addressing a range of issues from oil and gas development to transportation to education.
Check out the resources available at lam-co.org. You'll find the Lutheran Advocacy Ministry-Colorado 2018 Voter Guide, as well as bulletin inserts, flyers and posters related to the efforts we're supporting on the ballot: "yes" on Amendment A and "yes" on Prop 111.
THEOLOGICAL CONFERENCE: The Rocky Mountain Synod held its annual Theological Conference in Estes Park, Colo., Sept. 17-20. Among the featured speakers was Prairie Rose Seminole, ELCA program director for American Indian and Alaska Native Ministries; Dr. Ray Pickett from Pacific Lutheran Theological Seminary, Berkeley , Calif.; and the Rev. Albert Ranaivomanana, director of Betela Seminary in our companion synod in Madagascar.
STATE PUBLIC POLICY GATHERING: Colorado was host to the network of ELCA state public policy office directors and staff at Cathedral Ridge retreat center in Woodland Park, Sept. 8-11. The network welcomed Dr. Cynthia Moe-Lobeda of California Lutheran University, Thousand Oaks, to lead conversation around ecological ethics and creation justice.
Minnesota
Tammy Walhof, Lutheran Advocacy–Minnesota                        lutheranadvocacymn.org
LIEUTENANT GOVERNOR CANDIDATE FORUM (watch or listen) : Lutheran Advocacy-MN actively promoted Homes for All's gubernatorial forum. Both major-party lieutenant governor candidates, Donna Bergstrom and Peggy Flanagan, have housing and low-income experience. More than 500 people attended in person or by livestream.  Another 150 plus have watched online. If you haven't seen it, watch the forum!
LUTHERAN ADVOCACY-MN HIGHLIGHTED AS A HOM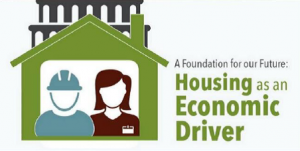 ES FOR ALL PARTNER (read): Lutheran Advocacy-MN is honored to be the first partner featured, as Homes for All recently started to highlight coalition partners on its blog. Learn more about our work on housing and how you can participate.
QUESTIONS FOR STATE LEGISLATIVE CANDIDATES: 
Clean energy: The Minnesota Legislature voted nearly unanimously to pass the 2007 Next Generation Energy Act. Gov. Tim Pawlenty signed it into law. It set a standard of 25 percent renewable energy to be reached by 2025 (30 percent for Xcel Energy) and encouraged energy efficiency. The law has helped Minnesota add many businesses and jobs, reduce prices with low-cost renewables (15 percent below national average), cut energy consumption by 1 percent a year and dramatically lower emissions from power plants.
What would you do to continue Minnesota's transition to renewable energy?
How would you support clean energy businesses and jobs?
Housing: Across Minnesota, there isn't enough affordable housing. High housing costs contribute to increased hunger rates. Families with minimum-wage jobs must work 71 hours a week to afford a two-bedroom apartment. In Minnesota, 450,000 households are cost burdened.
What would you do legislatively to increase levels of safe affordable housing?
How would you protect existing affordable rental housing?
What would you do to prevent and end homelessness?
New Mexico
Ruth Hoffman, Lutheran Advocacy Ministry–New Mexico (LAM-NM) lutheranadvocacynm.org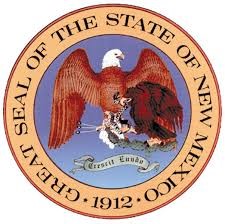 Legislative interim committees are in full swing: New Mexico legislators meet in various interim committees from May until December. LAM-NM monitors, attends and provides public comment at the interim committees, which consider topics related to the LAM-NM Advocacy Agenda. During July and August, LAM-NM attended meetings of the Legislative Health and Human Services Committee as well as the Criminal Justice Subcommittee. Additionally, LAM-NM director, Ruth Hoffman, attended the quarterly meeting of the Medicaid Advisory Committee, of which she is a member. Among the other interim committees we follow are the Revenue Stabilization and Tax Policy Committee, the Mortgage Finance Authority Oversight Committee (which deals with affordable housing issues), and the Legislative Finance Committee.
Ohio
Nick Bates, The Hunger Network in Ohio (HNO)                       www.hungernetohio.com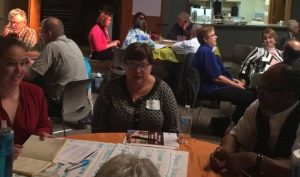 On Sept. 23 faith leaders from across Ohio convened at HNO's Faith and Advocacy Summit. This year the theme was "Beyond Resistance." We are called to do more than resist structural evil by saying "no." As people of faith, we provide an alternate vision of our future that is just and compassionate, especially for those who are living on the margins. As people of faith we work to rebuild our communities by saying "yes" to a just and compassionate world.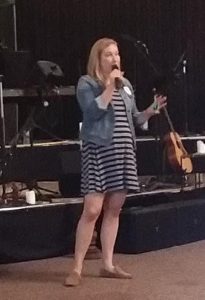 The Rev. Sally Padgett discussed our immigration policies and the steps of First English Lutheran Church in Columbus, Ohio to provide sanctuary to a mother and her children – one who has special needs. Kelsi Robinson packed a wealth of information into a few minutes to present facts related to Issue 1 – otherwise known as the Neighborhood Safety, Drug Treatment, and Rehabilitation Amendment. Ohio prisons are running at 130 percent of capacity, largely due to low-level, nonviolent drug offenses that unfairly target the poor and African American communities in Ohio. This amendment will:
Reduce felony charges for low-level, nonviolent drug possession to misdemeanors.
Reward individuals with reduced sentences for completion of education, treatment or other programs that will reduce recidivism.
Reduce the prison population with community-based approaches to probation violations instead of mass incarceration.
Reinvest saved dollars into treatment programs that we know work.
The Hunger Network in Ohio encourages a "yes" vote on Issue 1 this November.
Pennsylvania
Tracey DePasquale, Lutheran Advocacy – Pennsylvania            lutheranadvocacypa.org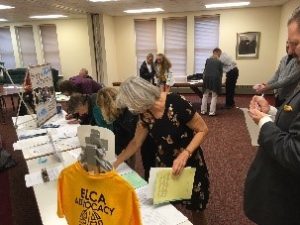 ELCA CONGREGATIONS SHARE THEIR VOICES: Pennsylvania Lutherans shared their voices for "God's work. Our hands." Sunday by addressing letters to federal and state legislators, advocating on behalf of those whose voices may not always be heard. Because of their thoughtful advocacy, several hundred letters were shared. Learn more.
REJECT ENVIRONMENTAL ROLLBACKS: Lutheran Advocacy Ministry in Pennsylvania (LAMPa) constituents received an alert urging them to contact their state senator to ask them to oppose HB 2154, which would significantly change the environmental requirements for conventional oil- and gas-drilling operators, putting clean air and pure water in jeopardy. The Senate is poised to vote soon. Take action.
LAMPa POLIC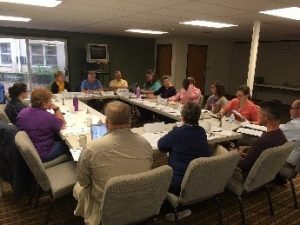 Y COUNCIL MEETS: The LAMPa Policy Council recently gathered for its annual retreat. One of this year's retreat goals included building a sense of call to the ministry of LAMPa as the body of Christ. Read more.
 "SAFE HARBOR" DEADLINE LOOMS: LAMPa staff shared an alert, participated in a capitol rally and contacted constituents seeking their help in contacting their state representatives and Speaker Mike Turzai to pass SB 554, a bill to protect child sex trafficking victims. If it is not passed in this session, the bill dies and will need to be reintroduced. Learn more.
CREATION JUSTICE: More than 60 people participated in the Community Solar webinar that LAMPa, along with other faith partners, sponsored on Sept. 20. Learn more. The PA Energy-Star Stewardship Tour visited seven locations statewide with the EPA sharing resources for congregational creation and financial stewardship. Learn more
Southeastern Synod
Hilton Austin, director                                                                       haustin337@att.net
HUNGER ADVOCATE FELLOW: It has been an exciting month, with the addition of our hunger advocate fellow. Jordan Slappey hit the ground running with the State Public Policy Office (SPPO) Retreat in Colorado. Two days later, she represented Southeastern Synod Advocacy at the Women of the ELCA convention at Lakepoint State Park in Eufala, Ala. We are currently in the process of creating new synod advocacy trifold brochures; the first is ready to go to print.
MEDICAID EXPANSION: Virginia Interfaith has shared many of the details of their successful Medicaid expansion campaign with our Tennessee Healthcare ready bench. This group has been fighting for Medicaid expansion for several years now and is currently preparing for the upcoming legislative season; it was encouraging for us to see the success in Virginia.
BALLOT INITIATIVES: We are currently working on developing an educational resources around upcoming ballot initiatives.
Virginia
Kim Bobo, Virginia Interfaith Center for Public Policy       virginiainterfaithcenter.org
In June, Gov. Ralph Northam signed the bill allowing Virginia to expand Medicaid. This will allow up to 400,000 eligible Virginians to receive health care as of Jan. 1, 2019. Lutherans and other people of faith in Virginia helped make this happen. But as part of the bill passage, Virginia agreed to apply for a federal waiver to create work requirements and cost sharing with Virginia's Medicaid program. The Virginia Interfaith Center for Public Policy (VICPP) opposes these proposed work requirements and cost sharing proposals because they will reduce those served by approximately 25,000 people, they will be costly for the state to administer, and they will be confusing for participants.  VICPP urges Virginians to submit comments by Oct. 20 opposing the proposed work requirements and cost sharing requirements. It will only take a few minutes to submit your comments at tinyurl.com/healthcarehope.
Wisconsin
Cindy Crane, Lutheran Office for Public Policy in Wisconsin (LOPPW)            loppw.org
IMMIGRATION:  Within four days, Immigration and Customs Enforcement (ICE) arrested 83 people in Wisconsin. Several city and Dane County leaders decried those actions. ICE did not cooperate with local authorities and gave no indication that it was apprehending criminals. We are investigating ways we can respond. Read one of LOPPW's posts of the press conference at Centro Hispano in Madison here.
LOPPW's hunger advocate fellow, Kelsey Johnson, is keeping track of the possible changes that could be made in the public charge of benefits, in conjunction with our D.C. office.
 BISHOPS' INPUT:  LOPPW staff recently met with all six bishops in Wisconsin to hear about their concerns in their communities and give updates. LOPPW will take their feedback to its advisory council. One of the outcomes of the meeting was that the bishops agreed to sign on to a letter about the farm bill to U.S. senators in Wisconsin and Michigan and all U.S. representatives for Wisconsin and the Upper Peninsula. Read the letter to Rep. Sean Duffy.  All letters are posted here.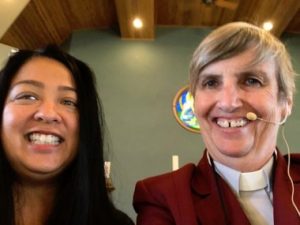 ADVOCACY CONFERENCE: Women of the ELCA's Shirley Paulson of the East Central Synod of Wisconsin invited the national organization's new director for justice, Jen DeLeon (far left), to be a keynote speaker at its synodical advocacy event in Plover, Wis. LOPPW Advisory Council member Deb Martin and Rep. Katrina Shankland also spoke.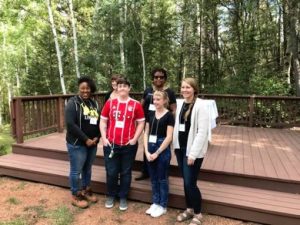 STAFF RETREAT: LOPPW's hunger fellow with other fellows from around the country at our annual advocacy staff retreat.
COMING SOON:  Care for God's Creation conference and overnight campus retreat.