– Tara Gilbert
I had the amazing opportunity to attend two Gatherings as an adult leader with our youth group at Trinity Lutheran in Marysville, Ohio: San Antonio and Detroit. There are many places where I saw Jesus at work as I reflect upon my Gathering experiences.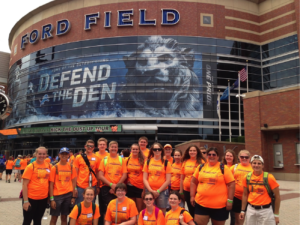 The biggest places I saw Jesus at work were where we witnessed to, fellowshipped with, and served those in need.  While in San Antonio, I was placed at a retired military assisted living facility where we did yard work and fellowshipped with the residents. I truly was able to see Christ at work in our youth as they did yard work in 95 degree heat without complaining, and then fellowshipped with and asked questions of a retired military general.  I was able to see God at work in our youth as they showed appreciation and respect for our elders and shared Scripture with them.
While in Detroit, my group was placed at a homeless shelter for families that had struggled and were trying to gain a second chance in life.  While  there, a bishop from Minnesota and I helped improve the facility by painting the walls in the facility and in the residents' rooms.  I saw Jesus in every stroke that we painted as we fellowshipped with one another and with the families as they walked by us.  I saw Jesus in the kids' smiles as we ate lunch with them and learned that everyone deserves a second chance.  Our youth learned that just because you have had a hard time in your life, that you can strive to be strong again.  The families there taught me to appreciate all the moments of life.
One of the other places where I saw Jesus at work was in worship.  I could not help but be brought to tears as I witnessed 30,000 youth praising our Lord through song and listening to speakers share their faith.  Jesus said in Matthew 18:20, "For where two or three gather in my name, there am I with them."  As an adult, I have been inspired by these worships services to continue growing in my faith and to have my eyes opened to the different ministry needs all over our country.  Jesus can use all of us to better the kingdom.  I saw our youth grow together as one community as we sang, laughed, cried, and read Scripture together.
It all comes down to the cross, as we are reminded at the Gatherings with the big colorful cross on the stage, displayed for all to see.
I saw Jesus everywhere through these Gatherings, and I can't help but smile as I think about Houston.
Tara Gilbert is a member at Trinity Lutheran, Marysville, Ohio