The following is an excerpt from "'Big Dreams' of Ending Homelessness in Virginia," featured in Living Lutheran.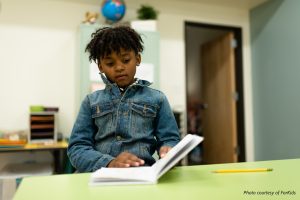 Last year, 25-year-old Maya (last name withheld), who lives in Virginia, was expecting her first child. Collecting unemployment due to COVID-19, she was staying with her parents when she got into an argument with them; they wanted more money to lodge her. After the altercation turned physical, Maya knew she had to leave the home for her baby's safety. Two weeks before her due date, she was sleeping in her car.
Maya asked around and soon heard about ForKids, a nonprofit and partner of ELCA World Hunger that serves 14 cities and counties in southeast Virginia to break the cycle of homelessness and poverty for families and children. Soon she connected with a caseworker, Lisa Ellsworth, who shared these words of comfort: "After having the baby, you have a room." ForKids set Maya up with emergency housing to come home to from the hospital.
This year, ForKids received a Big Dream Grant from ELCA World Hunger. Larger than World Hunger's typical domestic grants, Big Dream Grants are designed to support ministries with transformative projects that will make a significant difference in their communities.
To read more about this transformative ministry, check out "Big Dreams of Ending Homelessness in Virginia," a recent article by Alex Baird in Living Lutheran, your source for news, reflections and stories from the Evangelical Lutheran Church in America (ELCA) and its local and global companions.
All photos courtesy of ForKids.