Following are updates shared from submissions of the Lutheran Office for World Community and state public policy offices.
U.N.| California | Minnesota | Ohio | Pennsylvania | Washington | Wisconsin
United Nations
Dennis Frado, Lutheran Office for World Community, New York, N.Y. ELCA.org/lowc
Women's Human Rights Advocacy Training: The Lutheran World Federation in collaboration with Church of Sweden, Finn Church Aid, Mission 21, the World Council of Churches and ACT Alliance is holding an advocacy training on women's human rights (26 October – 13 November 2020). The training is usually held annually in person, and this year, due to COVID-19 it is being held virtually.
Topics covered include introduction to the Convention on the Elimination of all Forms of Discrimination Against Women (CEDAW), tools and opportunities for engaging in preparing for parallel (also known as "shadow") reports to CEDAW, the intersection between human rights, faith and gender, Gender-Based Violence prevention and responses, the role of men and boys in gender justice advocacy among others.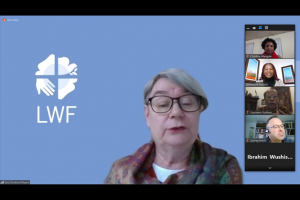 LOWC is involved in the planning and facilitation of some sessions during the training. A resource for faith-based organizations on affirming women's human rights can be found here.
General Assembly's Third Committee Has Dialogues with Human Rights Mandate Holders: As it has done for some years, the General Assembly's Third Committee has been having dialogues in recent weeks with various persons holding human rights mandates from the Geneva-based UN Human Rights Council. While LOWC has been monitoring quite a few of these discussions on topics such as racism and racial discrimination, advancement of women, rights of indigenous peoples, and internally displaced persons, it took special note of the discussion with the Special Rapporteur on the situation of human rights in the Palestinian territories occupied since 1967, Professor S. Michael Lynk.  His report this year reviewed the situation of human rights in the West Bank, including East Jerusalem, and in Gaza and focused on accountability related issues. Lynk also held a separate virtual discussion with the UN NGO Working Group on Israel-Palestine, of which LOWC is a member, as he has in previous years on this occasion.
---
California
Regina Q. Banks, Lutheran Office of Public Policy- California https://lutheranpublicpolicyca.org/
Getting ready for the election: The Lutheran Office of Public Policy in California (LOPP-CA) has been working diligently to prepare for the upcoming election. The staff did work around building patience and an understanding of the process. In the weekly Advocacy in Quarantine meetings, LOPP-CA worked with constituents to talk through the timeliness of the election while holding space for further learning on the state's Proposition.
Prop 16 Text Banking: LOPP-CA went forward this month in continuing to text bank with the Prop 16 coalition. The office has been reaching out to California voters through a texting platform called Thru Text in hopes of overturning the state-wide ban of affirmative action, something that has been in effect since 1996. There has been a committed group of parishioners and advocates meeting every Monday to push this outreach, and so far the office has reached more than 600,000 voters in the state.
Partnering with California Food and Farming Network: Continuing the office's commitment to advocate for food and farming, LOPP-CA has begun working closely with the California Food and Farming Network (CFFN), a coalition of around 40 advocacy organizations such as food banks, legislative advocacy, farming service organizations, and partners from across both the food and farming sectors. The Network has begun its strategic process for the year 2021, centering racial justice and equity in their approach. LOPP-CA has joined CFFN for this visioning process, and has given financial contributions toward centering racial justice through committing funds to CFFN's community Engagement process. Specifically, CFFN will be reaching out into communities of color, finding leaders and advocates within food sectors, and providing compensation for their expertise. This listening campaign will take the expertise learned and structure CFFN 2021 priorities.
---
Minnesota
Tammy Walhof, Lutheran Advocacy- Minnesota http://www.lutheranadvocacymn.org/
State Legislative Elections: Although the Minnesota Democratic-Farmer-Labor Party lost some seats in the House, it retains control of the chamber. In the Senate, some flipped districts occurred, but the balance remains the same. Unfortunately, at least one of the Republicans that was ousted was one who was helpful to our housing agenda. All the main leaders from both parties and both chambers retain their positions.
Minnesota U.S. Elections: Rep. Colin Peterson was ousted from Minnesota's 7th congressional district seat and replaced by former State Senator/Senate President Michelle Fischbach, who also served briefly as Lt. Governor when Tina Smith was appointed to the U.S. Senate. Representative Peterson served as the long-term chair of the Agriculture Committee, a committee Fischbach hopes to serve on as it also addresses nutrition issues.
Update on Special Session #5: A carefully negotiated $1.36 billion bill including bonding, supplemental appropriations, and "tax  relief" for farmers and small businesses was finally passed when House Minority Leader Daudt let his caucus vote their conscience. Freed by Daudt, many House Republicans joined the bipartisan bill. Thanks for your hard work on the housing pieces!
Included in the bill were
$100 million in Housing Infrastructure Bonds
$16 million in General Obligation Bonds for Public Housing
A large amount for transportation including roads and bridges, some public transportation, and electric vehicle charging infrastructure
Bonds for public facility projects, public safety, the University of Minnesota, and other various public works, including municipal water infrastructure & solar projects
$31 million in a supplemental appropriation (added to last year's biennial budget)
---
Ohio
Deacon Nick Bates, Hunger Network in Ohio hungernetohio.com
Hunger For Justice Conference: On November 9th the Hunger Network sponsored the Hunger for Justice Conference featuring theological reflection on the election and analysis of what is to come so that faith leaders across the state can identify opportunities for successful advocacy!
Visit www.hungernetohio.com/summit for links to our plenary panel, theological reflection and musical reflection of what the election means to our communities. 
---
Pennsylvania
Tracey DePasquale, Lutheran Advocacy Ministry–Pennsylvania (LAMPa) www.lutheranadvocacypa.org
Shaping Hunger Policy in PA: LAMPa Director Tracey DePasquale participated in the quarterly meeting of the state's Emergency Food Assistance Advisory Committee, where the state Department of Agriculture and charitable feeding organizations assessed the current response to emergency nutrition needs during COVID-19, mapped likely needs and set goals for meeting those needs in the upcoming state budget.
LAMPa Participates in Virtual Human Trafficking Rally: LAMPa participated in a Pennsylvania Anti-Human Trafficking Advocacy Work Group sponsored Advocacy Day lifting legislation that provides definitions and the offense of trafficking individuals; repealing provisions relating to patronizing a victim of sexual servitude; promoting prostitution and living off sexually exploited persons; commercial sexual exploitation; and providing for Safe Harbor for Sexually Exploited Children Fund.
Workshop presented at We Love: LAMPa Program Director Lynn Fry shared a workshop titled : Take a Stand: Advocacy & Equality in Pennsylvania at the second ELCA NEPA Synod We Love Event – Building Safer & More Welcoming Congregations for LGBTQ+ Youth and Families.
Equipping leaders and vital congregations for discipleship in a democracy: LAMPa continued to disseminate election information to congregations, synods, and leaders regarding election security, poll watching, and voter safety. DePasquale and ELCA Advocacy Director Amy Reumann presented to leaders in the NWPA Synod Bishop's Convocation.
Responded to Legislative threats to Medicaid: LAMPa worked to successfully stop legislation that threatened Medicaid provisions and funding.
Advocacy and Faith Formation: DePasquale taught a virtual adult faith formation class at Holy Spirit, Emmaus, SEPA Synod.
---
Washington
The Rev. Paul Benz and Elise DeGooyer, Faith Action Network fanwa.org
Election Successes: WA state passed Referendum 90 for Safe and Healthy Youth, a bill the legislature passed in the 2020 session mandating sex education in our K-12 school system with age-appropriate stages. This referendum was supported by sexual assault and domestic violence advocates, as well as a broad coalition of faith leaders who signed this letter, in contrast to opposition from the "religious right." FAN was very involved in the campaign to secure the 60% approval. We also secured funding for our Long-Term Care Trust Fund via constitutional amendment – among the first of such funds in the nation.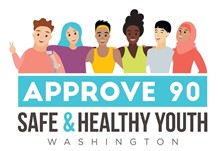 New Regional Organizers: We are excited to share that our organizing team is expanding! FAN is able to fulfill one of our dreams of having a stronger presence statewide by hiring part-time Regional Organizers in Western, Central, and Eastern Washington as well as two social work interns from the University of Washington. We look forward to building deeper relationships with our Network of Advocating Faith Communities (NAFCs) and local organizations statewide.
---
Wisconsin
The Rev. Cindy  Crane, Lutheran Office for Public Policy in Wisconsin (LOPPW) loppw.org
ELCAvotes: Wisconsin had a record turnout of voters! Since March, LOPPW placed major emphases on encouraging people to vote, especially absentee, and on countering misinformation. We often worked in coalition with ELCA partners and a statewide voting coalition. October efforts included interviewing a Wisconsin Elections Commission representative for Wednesday Noon Live and creating six Ballot Box FAQs videos, including one with an interview with the ACLU.
Care for God's Creation: LOPPW's statewide task force, so far with members from five synods, began planning a Care for God's creation virtual advocacy day to coincide with an emerging new WI State Budget.
Trainings: LOPPW helped in organizing an advocacy webinar, co-hosted by ECSW WELCA. We also led discussions on voting and advocacy with adults and confirmands in LAS and in SCSW.
COVID-19: Participated in meeting with Lieutenant Governor on health mandates challenged by courts and possibly the legislature. I was then in dialogue with the bishops about drafting a statement, which can be found here. LOPPW also joined an interfaith group to organize an action to address the problem.
New Resource: Read our new resource, "Advocating Locally," for information about engaging your community!
Criminal Justice: We've begun reviving efforts to return 17-year-olds to juvenile courts, led by our Hunger Advocacy Fellow, Kyle Minden.
Anti-Racism: We offered consultation to ECSW's Global Missions Committee on integrating anti-racism efforts into their work. I invited Regina Banks to give a presentation at one of their meetings.
Immigration and Refugees:  We offered consultation to the SCSW Immigration Task Force and created a video to address decreasing number of refugees in U.S. for the national, "Lift the Torch of Welcome" vigil.