-Sierra Ronning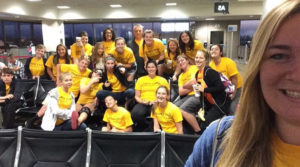 I'm Sierra Ronning, and I am very excited to join the ELCA Youth Gathering team in Communication and Administration. I have a BA in Multimedia from California Lutheran University, I worked in TV production for a year, followed by work in youth ministry for three years. I couldn't have dreamed of a position that combines all of my experiences.
I had my first Gathering experience in 2006. I was a volunteer with Service Learning in San Antonio, and that was such an experience. The energy was contagious. Everywhere I went, someone was hugging a stranger or offering a high five—there was nothing but smiles and an immense love for this community. In 2015, I experienced what it takes to take youth to the Gathering. The stresses of fundraising, preparing the group for what to expect, assuring parents that their children will be safe, figuring out how to feed a group of 20 in a packed city… it's a lot of work. Once we got to Detroit and I saw how my youth were engaging, growing, and just having the time of their lives, I knew this would be an experience none of us would ever forget.
The 2018 Gathering in Houston will be another life-changing experience for a new group of youth, adults, volunteers, and staff. Know that the stresses that come with it are all worth it. I'm excited to be supporting this ministry in a new way, and I'm looking forward to connecting with everyone involved. See y'all in Houston!