– Sherry Ferne
After graduating  from Central High School in January, 1961, I worked at the State of Ohio Library. I was saving money for college at Capital University and also to attend the 1961 Luther League Convention in Miami Beach, Florida. I looked forward to both. The Convention would be a real adventure for someone who had only traveled to Michigan and West Virginia. I took a train to Washington, DC and then to Miami Beach, Florida; a whole train full of Lutheran teenagers! Yet "Colored" bathrooms and drinking fountains at the railroad stations in the south surprised and shocked me.
We stayed at the very upscale Fontainebleau Hotel. The sessions were terrific with all of the young people: the enthusiastic singing was inspiring.  The speakers were thought provoking.  Most impressive of all was a black pastor who spoke with such passion and authority, and with the certainty that he was doing what God was calling him to do.  I don't exactly remember his words, but I do remember that his message was powerful.  He was so impressive.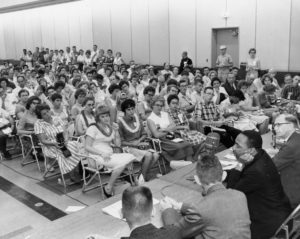 To this day, I wonder how the American Lutheran Church was able to convince Dr. Martin Luther King, Jr. to address this group of teenagers.  It certainly was a pivotal moment in my life as I carefully followed his few remaining years.
The convention in 1961 made me a huge proponent of our ELCA Youth Gatherings.  I heartily encourage every young person in the ELCA to attend as many Youth Gatherings as they can.  My 15 year old grandson attended his first gathering in Detroit and he looks forward to attending the Houston Gathering with his younger sister.  They are life changing events!