Anne Williams, Ankeny, IA
Warm-up Question
What sorts of things make you feel better when you're physically hurting? What about when you're emotionally or spiritually hurting?
Crossing Borders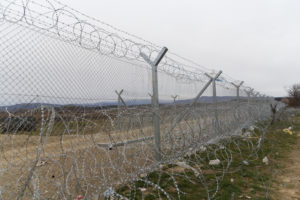 Rami Adham, a Syrian-Finnish (yes, he lives in Finland) father of 6 is known as Uncle Toy among Syrian refugee children. Adham collects toys and money in Finland then gets himself smuggled into Syria through Turkey to deliver toys and goods to people living in refugee camps. He has made the journey 28 times in five years. It can be dangerous, as he has to be smuggled across the border both ways each time he travels. It's not unusual for him to walk six or seven hours at a time, sometimes dodging bullets. He says that Syrians have lost faith in others in the world because of the terrible violence in their country. Adham says no one will ever stop him. He's completely dedicated to the kids of Syria.
Discussion Questions
Would you ever consider doing something dangerous to bring some good to someone else?
Do you think what Rami Adham is doing is healing? To himself? To the refugee children?
How are Adham's actions healing?
Twenty-first Sunday after Pentecost
(Text links are to Oremus Bible Browser. Oremus Bible Browser is not affiliated with or supported by the Evangelical Lutheran Church in America. You can find the calendar of readings for Year B at Lectionary Readings
For lectionary humor and insight, check the weekly comic Agnus Day.
Gospel Reflection
First of all, let's frame Jesus' story by exploring where he is. Jesus is outside of Jewish lands, he's in a no-man's-land between the borders of Judea and Samaria. It's interesting that the village he enters is in that no-man's-land. Even more interesting is that there are lepers living near this village. Lepers weren't allowed to live in the towns, having to live in the hills or valleys around the towns they came from. In a lot of ways, lepers in the ancient world were refugees – unable to live in their own homes, often violently driven out of the towns they used to live in. The only way they were allowed to go back to their old lives was to prove to the local priest that they were healed – free of any skin diseases or conditions that might be considered contagious.
So this is where Jesus is, in a town where there are 10 lepers who just want to get back to their lives, with their families, in their homes. Our Bible text doesn't say how Jesus healed these ten men, but we know he did. Only one of them turned back to Jesus and thanked him.  Notice, the only man who comes back to thank Jesus is a Samaritan.  Samaritans were often seen as enemies of the Judeans and regarded with suspicion. Jesus tells him that his faith has made him well.
It's not really a surprise that we find Jesus valuing people who are both the refugees of the ancient world and the historical enemy of his people. Luke consistently tells us that Jesus is always there for the poor and the hurting, that his care extends to them no matter who they are or where they are from. Even if they exist on the very edges of society Jesus is willing to be there for them. And it shouldn't surprise us that Jesus is willing to leave his comfort zone, even the boundaries of his own country, to meet those who need his help.
Discussion Questions
If you were one of Jesus' disciples, how, would you feel about leaving friendly territory and moving into potentially hostile territory to follow him?
Who exists outside friendly territory in your world? Hint: this is necessarily a literal question – some spaces are hostile to a person without being violent.
Are there ways for you to meet the people who live outside the borders of your comfort zone?
Could healing happen if you were to meet those people? What kind of healing would it be?
Activity Suggestions
Grab a bunch of maps, ideally one of your town, one of your state, one of the country and one of the world. The bigger the better. (If you have the space and the resources, have the students draw the maps on strips of butcher paper or poster paper taped together, accuracy isn't the goal). Spread out all the maps and give your students markers. Instruct them to draw the borders in their lives, the lines that divide us and them. It might a school district border, a line between rich and poor neighborhoods, etc. Reflect together about the borders that exist at all scales of our lives, local, national, global. Reflect further about what it would take to cross those boundaries and get to know the people who live on the other side. What kind of healing would that look like?
Closing Prayer
Gracious and loving God, we know that your presence covers the whole earth and that you are present wherever two or more are gathered in your name. Help us to uncover all of the places where you are, especially if they lie outside our comfortable and safe boundaries. Help us to find ways to cross those boundaries in ways that will bring healing and wholeness to those on both sides of the line. In Jesus' name we pray, Amen.