ELCA World Hunger is excited to announce the addition of a new staff member, Everdith Landrau. Read more about her below! 
Hi everyone, my name is Everdith Landrau, also known as Evie, and I am delighted to join the ELCA World Hunger as Director of Networking and Engagement.  I am a native of San Juan, Puerto Rio by way of Manhattan (Spanish Harlem), New York.  I am an ordained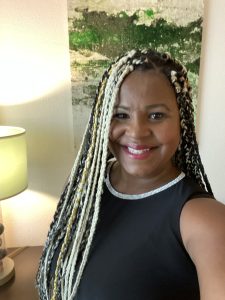 Minister of Word and Sacrament with the Presbyterian Church, (USA).  My grandmother fostered the love of service early on in my childhood.  Growing up in an urban setting both in Puerto Rico and Spanish Harlem exposed me to the many struggles of hunger, food insecurity and poverty in Black and Latinex communities.
My service to the Church has taken different forms, including ecumenism, inter-faith relations, faith formation, youth and young adult ministry, art/healing movement, and food justice and advocacy.  As an ecumenical leader with my local congregation and the World Council of Churches, I collaborated in various justice service programmatic projects and critical theological reflection.  My doctoral research was focused on the health disparities of African American women in Charlotte, NC.  I researched the realities of how health disparities, hunger, food insecurity, and entrenched institutional racism prevents the flourishing of many Black and Brown communities in the South and the United States.
Much of my passion for prophetic justice has been nurtured by mentors, my spiritual formation alongside Black and Brown siblings and immigrant communities.  I have been honored to be a pastor in North Carolina while participating in community engagement and networking between diverse communities.  In many of our churches, we addressed hunger through soup kitchens, food pantries and intentional advocacy projects with local officials and nonprofit organizations.  I believe in the power of building resilient communities and creating brave spaces of dialogue, action and prayer.
In my free time, I enjoy exercising, creating handmade jewelry, dancing, and playing with my three-year-old daughter, Aluna.