– Megan Brandsrud
"You belong!" shouted Sarah Mayer-Flatt, team leader of the tAble. "I belong!" responded the tAble participants, shouting as loud as they could. Today the tAble further explored its theme, "You Belong," as it focused on today's theme question, "Why do you belong?"
Joey Baar, a participant of the tAble and member of Living Lord Lutheran Church in Bradenton, Fla., responded to today's theme question by writing, "I belong because Jesus loves me," on a strip of paper, which he then added to a paper chain. The paper chain, which is quickly growing, lists participants' responses to the questions of why they belong and how they belong.
During their service learning time today, the tAble participants put together "Grace Bags." The bags, which contained items such as water bottles, tissues, socks and non-perishable food, will be distributed to people who are experiencing homelessness. As participants worked on compiling 200 Grace Bags, they were reminded that everyone is called to serve, and everyone has gifts and talents to contribute.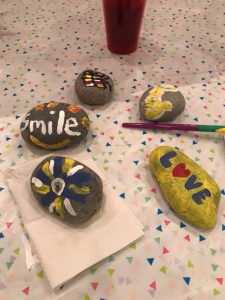 the tAble participants practiced their artistic talents by painting "Kindness Rocks"—rocks that they decorated with fun pictures and inspirational messages. the tAble participants will hide the rocks during their tour of the NRG Complex tomorrow for ELCA Youth Gathering participants to find throughout the week.
Anna Lynch, a participant of the tAble from St. Luke's Lutheran Church in Park Ridge, Ill., painted a rock with a smiley face and a heart because she thought they were happy messages for people to find. She also filled a Grace Bag, saying she'd done something similar before with her home church.
Sarah Mayer-Flatt said these two service learning activities helped connect the tAble participants to the Houston community, to the Gathering and further.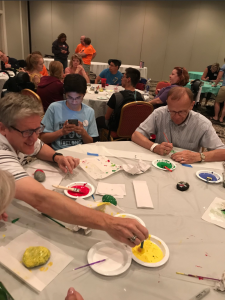 Some Gathering participants might have never heard about the tAble but may find one of the Kindness Rocks and will now be able to spread the message of the tAble back to their home church, she said.
Throughout the day, the nearly 80 tAble participants were reminded that they are "fearfully and wonderfully made," drawing from Psalm 139. They also talked about how God can be revealed through their talents, strengths and gifts.
And the gifts that the tAble participants used today in their filling of Grace Bags and their painting of Kindness Rocks demonstrated just some of the many answers to "Why do you belong?"
---
Follow the 2018 ELCA Youth Gathering on social media:
Don't forget to follow the hashtag #ELCAYG2018!
Follow instructions to download the ELCA Youth Gathering app here.