– Chandler Carriker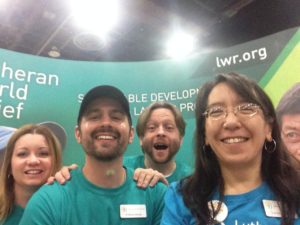 Staff from Lutheran World Relief (LWR) are used to going to faraway places to do their work of international relief and development. Right now, I'm packing my bags to head down to Jinotega, Nicaragua. In the summer of 2015, three of my teammates and I packed up our bags and joined so many of you in Detroit. I hadn't been to a Gathering since 1994 when I was I was in high school. Back then, I was standing in a parking lot in Atlanta, sorting donations in a burning hot trailer. This time, though, I was bringing with me an opportunity to serve.
We brought with us LWR's Game of Lasting Promise, which gave participants a chance to jump into the work of fighting poverty around the world. Around 275 congregational groups played our game and saw how Lutherans work together to combat poverty and hunger in places like the Philippines and Tanzania. After teams played, they had an opportunity to share their prayers for our staff and partners around the world on our prayer wall. I had the honor to come back home and share those prayers with our staff.
Only seconds after I sent the email with pictures of these prayers, my inbox was flooded with responses from Peru, Kenya, and Nepal.
"These kind of details give us a motivation for continuing our work with much energy," said Gladys. "So inspiring and touching," said Kenneth. And, "Thank you for sharing these prayers for our work, for the special LWR service around the world," said Pedro. "These testimonies are very important for us."
I went to Detroit thinking we were bringing you the opportunity to serve and learn, but instead I was sent home with a message and witness which inspired my friends all around the world. As you prepare to go to Houston in 2018, be ready to serve, be ready to learn, and be ready for your witness to Christ to echo around the world.
Chandler Carriker is an ELCA Deacon and the Associate Director of Outreach & Engagement for LWR.