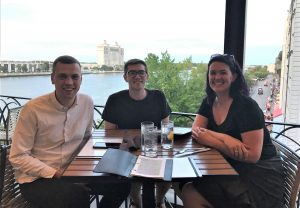 Greetings from the Churchwide Office in Chicago! You might be wondering, who works for the Gathering? In Chicago, there are three staff members that tend to the Gathering year-round. While they aren't the ones who plan every single detail about the upcoming Gathering, they do support the 14 different teams that do.
Molly, the Gathering Director, first attended the Gathering in 1997 and has served at the Gathering in various capacities ever since. She's worked at the congregational and synodical levels in youth ministry before transitioning to the Gathering in 2015.
Michael serves as the Assistant Director for the Gathering, where he handles all things housing and registration. Michael began his work with the Gathering as an intern leading up to the 2012 Gathering and has served in various roles ever since.
Justin, the Communications & Administration Program Associate for the Gathering, attended the 2012 and 2015 Gathering and then joined the Gathering staff this spring. He spent the last four summers working in outdoor ministry in various roles.
Molly, Michael, and Justin have a lot in common. Below is a Venn diagram that properly depicts some of their similarities and favorite things. Enjoy–