– Jake

Putala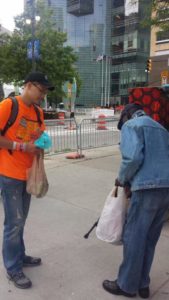 As a rural Michigander, the Detroit ELCA Youth Gathering was an eye-opener. Yes, I live in Michigan, but I didn't understand what the people of Motor City were going through. I never saw how we can do God's work with our very own hands until I went on this trip—and I am forever grateful that I did.
What started with a eight hour bus ride (without air conditioning, I might add) turned out to be one of the best times of my life. Our synod took two busses, transporting about 120 Lutheran youth and chaperones. I only knew a few of them, so meeting many other youth who all share a passion for Christ was so inspiring.
However, it wasn't meeting people that was the best part. It was seeing God's work in action that gave me a feeling of awe and spiritual revival. When we were helping the less fortunate get a meal or building a house for a low income family, it wasn't us who were doing this work. It was God. God brought all of us together for fellowship, service, and worship. Being in a sports stadium with 30,000 other Lutherans was quite possibly the most incredible experience of my life. Singing hymns, listening to inspiring speakers, and seeing how energetic the Evangelical Lutheran Church in America could be created a whole new appreciation for my faith, and, more importantly, for Jesus Christ.
I would recommend to any young Lutheran to attend the Gathering. What seems to be a short week turns into a lifetime of love, passion, and enthusiasm for Jesus Christ, our Lord and Savior. Always remember: Jesus is GOOD news!