by: Adam Knudson
I am an ordained pastor and serve on staff at a Lutheran Church, but I am not an ordained ELCA pastor. My background is Presbyterian. My first Gathering experience was in New Orleans for the 2009 Gathering, Jesus Justice Jazz. I didn't know what to expect. I'd never been to Louisiana before, I'd never attended such a large youth event before, I was afraid of what it would be like to lead a group of a couple dozen youth and adults around a city that I had never visited. Why did I agree to do this anyway?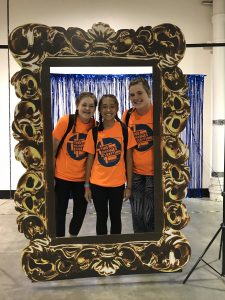 Our church is in California and while there are MANY churches and many large churches in California, there are not a lot of Lutherans and even fewer large Lutheran churches. Attending the Gathering offers the youth from my church an opportunity to understand their place and their identity within a larger community. When the ELCA gathers tens of thousands of youth from across the country and beyond, some of our best values and our highest priorities are showcased, highlighted and lived in vibrant and compelling ways. 
When our youth attend the Gathering, I don't need to teach a lesson, read a Bible story, or prepare a class on what we believe or how God calls us to live in the world. The core values of our faith are written large on giant screens, crowded buses full of folks with bright orange shirts ready to serve, and youth and adults willing to listen to the stories of our hosts as we enter their communities and their cities.
The ELCA Youth Gathering has opened my mind to understand the great breadth and depth of what it means to be Lutheran. The Gathering has given me a chance to share this perspective with our youth, to hold up their faith as a mirror in which they can see who they are and in turn, our youth return home and share stories with our congregation. For me, the Gathering is an opportunity to participate in the kin-dom of God and to recognize God's family as a place where I belong.
Adam Knudson has served as Youth Pastor at Hope Lutheran in Fresno, CA for thirteen years. He is involved in youth ministry networks in his community and Synod.