Join ELCA World Hunger in welcoming (back) former intern and current coordinator for network engagement, Petra Rickertsen!
Grateful for your warm 'welcome back' to the ELCA World Hunger team, I am elated to announce my graduation from 2018 intern to Coordinator, Network Engagement! My passion for working with the ELCA World Hunger began in high school at an ELCA National Youth Gathering, grew through creating educational opportunities at California Lutheran University, and blossomed throug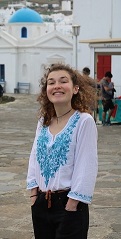 h hands-on experiences spreading the news of our work as a Hunger Leader on my Synod's Hunger Team. Along the way, I also worked with Lutheran Retreats, Camps, and Conferences for five summers (after many seasons as a camper), and Fit 4 The Cause throughout college, drawing camp and fitness close to my heart. Serving through each nonprofit fortified my joy for working with people diverse in their walks of faith and life.
Learning about God's astounding creation from people to plants also piques my interest. It's part of the reason why I eat vegetarian and feel so blessed to travel! Two great adventures included studying abroad one semester in Paris, then another semester at Oxford University (Balliol and Saïd Colleges) which included additional travel through Greece, Italy, and Israel. I find the most intriguing part of traveling to be learning about the relationships people create with their food and the communities that flourish around food's journey from seed to body.
Though traveling abroad is brilliant, I'm just as excited for the adventures happening in my own backyard! As a people-person, everything is more fun with a buddy, whether that is skateboarding, camping, or simply staying in for homemade pizza and movie night. I'll miss the mountains (and burritos).  However, I am curious about what it will be like to trade warm sandy beaches and palm trees on Christmas for dashing through the snow in Chicago. But, I am elated for the growth this change in scenery will bring! Most of all, I'm grateful to be here, supporting the incredible work you and our shared network is achieving through ELCA World Hunger ministries. I am inspired to be back working with you and this team until all are fed.
I'm excited to work with the ELCA World Hunger network in our shared mission to end hunger, from assisting to plan, manage and answer your questions regarding events like the ELCA World Hunger Leadership Gathering, to sharing on social media the astounding work you're achieving in your communities, and our companions and partners are working on across the world.