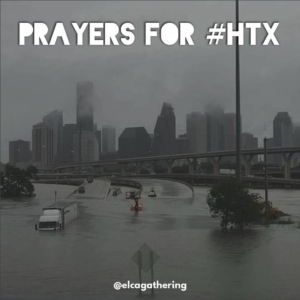 The number one question heard after a major event like Hurricane Harvey: "How can I help?"
As followers of Jesus, we are called love our neighbor and to serve those in need.
First, thank you. On the Gulf Coast, your love and support are appreciated during this time.
Second, as people of faith, please pray. Pray for first responders, for those who had to evacuate flooded homes, for people worried about family, and for those who are trying to pick up the pieces.
Third, financial gifts are more helpful than gifts of goods right now. Financial resources are portable and used for many different purposes. Consider donating to Lutheran Disaster Response (for case management).
Finally, wait and listen. The disaster isn't over. It is still raining. During the first stage following a disaster, search and rescue (typically first 72 hours), there is not much that can be done. Some areas may not even be accessible yet. With a hurricane or flooding, flood waters may still be rising in some areas while receding in others.
Once the water subsides, communities will begin the process of assessing their needs. Once needs are determined, the synods will work with local congregations to help care for their communities.

---
For the most current updates, please connect with Gulf Coast Synod on social media: