This "Experiments in Action" blog series features individuals and communities who are trying something new. This post features a story from Tree of Life, Minneapolis, MN a Lutheran church start-up that is queer-affirming, millennial-led, and for the spiritual but also slightly religious. This post is written by The Rev. Marissa Sotos, pastor at Tree of Life.
Before Covid-19: Background
Before Covid-19, Tree of Life Lutheran was a millennial-focused mission start in the North Loop neighborhood of downtown Minneapolis that was turning toward intentional long term planning. We had established Evening Prayer and Dinner gatherings on the first Sunday of every month that were the anchor of our faith community's spiritual and social life, with a rotation of other gatherings throughout the month for service, yoga, theology on tap, etc. One major problem we faced was that to create opportunities for invitation, connection to newcomers, and a habitual pattern for participants we needed to have our primary worship gatherings more frequently and make them easily accessible. ​​​​​​​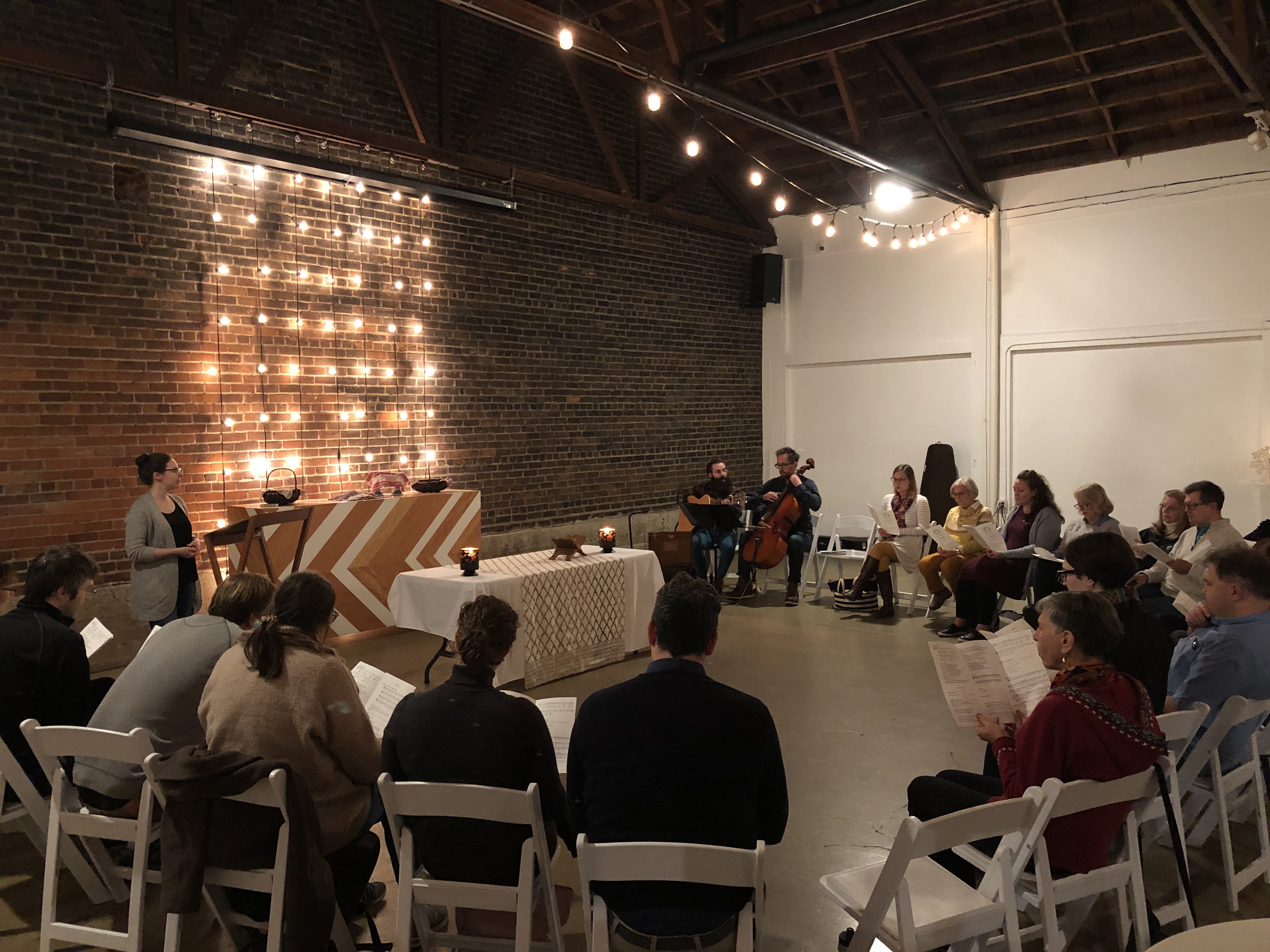 A worship service at Tree of Life
Meeting more frequently posed serious resource problems including a lack of staff time for planning and a lack of funds for worship space rental and food (dinner was always provided). Our worship space also posed several accessibility problems: it was at the back of a building down a hall and had extremely limited parking. Additionally, spreading an average attendance of 15 people over multiple Sunday's posed a potential risk.
While being intentional about our commitments to worship, prayer, music and rich interaction, we began to plan ways to strip down Sunday gatherings to be group facilitated and easily navigable for visitors. We also decided to try stretching our resources to add another gathering on the third Sunday of every month.
Now: The Experiment
​​​​​​​On Saturday, March 14th, the night before what was to be our first third Sunday together, word of community spread of Covid-19 led Tree of Life to abruptly shift plans to go online the following day. We realized immediately we needed to do two things: first, create high quality and highly interactive online worship that could help provide a communal and spiritual safety net during extreme stress, and second, offer it weekly as members and friends lives began to change by the hour. We chose Zoom as a platform because it was highly interactive, easy to use and easy to share. The first service went ahead with what we had planned for worship that day which was Holden Evening Prayer. Everyone who was planning to attend that Sunday successfully made the last-minute switch to Zoom and we found we could easily converse in a group our size. However, Worship did not go well. We learned very quickly that communal singing was impossible due to lag, and that following along on a PDF bulletin without much interaction or explanation led to people quickly giving up on participating.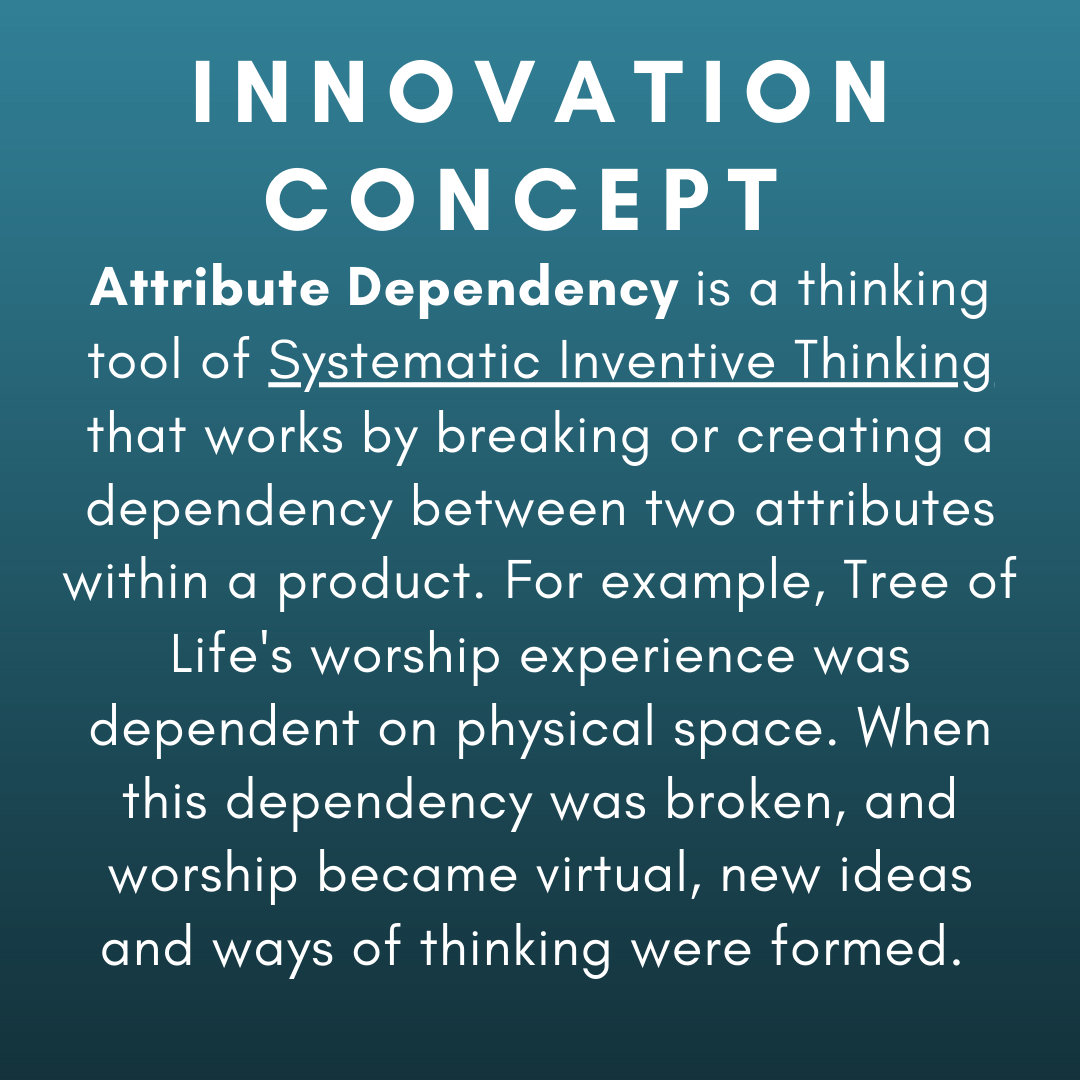 Recognizing these problems, we spent the next several weeks building a format for gatherings that worked with, rather than against, Zoom. We flipped our social and check-in time to be before worship rather than after it so that everyone would know who was in the "room." We adjusted singing to be either call and response that could be done between two different computers, or easy to sing melodies that everyone except the musician would sing along with on mute. We added a lay-led Bible Study component, continued our tradition of volunteering for first readings but with a wider variety of poetry, and asked everyone to show up with cups and candles. This meant we had some common physical objects to work with: cups to talk about how full our spiritual "cup" was that week and candles to light together at the beginning of Evening Prayer and extinguish together at the end. ​​​​​​​
Then we started inviting people and realized that our new location and format was more accessible to visitors. We could send a link to someone anywhere, it was easy for them to find us, low risk to show up, and interaction over Zoom made it easy for people to participate to their comfort level. We also found that worshipping digitally solved the problem of limited resources. We no longer needed to budget for rent or food or budget time for space set up, and even if our numbers were small there were enough of us every week to make a Zoom call feel full where a physical space might have felt empty.
Into the Future: Learnings
Worshipping weekly and worshipping digitally have become part of our DNA as a faith community. As we anticipated, gathering weekly has made us a stronger and more mature community while also providing more opportunities to invite guests and integrate them. We have found that simple but frequent gatherings work better for us than occasional elaborate ones and being digital gives us the resources to support those. The convenience and untethered nature of digital gatherings also mean that we often have worshippers from a much larger geographical area than we would have before and that our core group shows up more frequently than they would in-person. Finally, we have found that being an online community gives us new options (and new challenges) for outreach and getting to know people.​​​​​​​
There are also many things we lost in moving online: communal singing, regular communion practice, eating dinner together, and passing the peace in-person. We miss those things and still look forward to resuming in-person worship when it is safe. At the same time, we don't want to lose our new out of town community members, the ease of accessibility and the sacred space we've found in our online format, or our ability to stretch our resources. When Covid-19 is no longer such a present danger we plan to shift again and become a hybrid community, worshipping both online and in-person. We don't know exactly what that will look like yet but have clarified our priorities around weekly worship and broad access. Having pivoted so completely once we know we can do it again to bring together the most important components of our community's online and in-person life.
The ELCA Innovation Lab Blog is new! We'd love to hear what you think. If you've got a few minutes, complete this short survey. If you have any additional questions or comments let us know at lab@elca.org.