ELCA World Hunger's 40 Days of Giving
Lent 2022
Week 1: Journey in the Wilderness
"A wandering Aramean was my ancestor"
(Deuteronomy 26:5)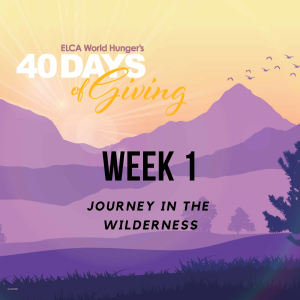 Read
Deuteronomy 26:1-11
Psalm 91:1-2, 9 -16
Romans 10:8b-13
Luke 4:1-13
Reflect
We have a curious set of readings for this first Sunday of Lent. Biblical scholars believe that Deuteronomy 26:5-10 is a script for someone making an offering of what was called the "first fruits," a religious practice for farming communities. Following the first harvest that the Israelites reaped in the Promised Land, they were to gather a basket of select produce from the fields and carry it to the priest. When the priest laid the basket at the altar, the person making the offering would then say the following:
A wandering Aramean was my ancestor; he went down into Egypt and lived there as an alien, few in number, and there he became a great nation, mighty and populous. When the Egyptians treated us harshly and afflicted us, by imposing hard labor on us, we cried to the Lord, the God of our ancestors; the Lord heard our voice and saw our affliction, our toil, and our oppression. The Lord brought us out of Egypt with a mighty hand and an outstretched arm, with a terrifying display of power, and with signs and wonders; and he brought us into this place and gave us this land, a land flowing with milk and honey. So now I bring the first of the fruit of the ground that you, O Lord, have given me (Deuteronomy 26:5-10).
These verses fit well with this somber season. Lent is, if nothing else, a time of looking backward and a time of looking forward. In its 40 days, we remember how far we have fallen short of the glory of God. In it, too, we look ahead with longing to the breaking of the Easter dawn and the unveiling of the promise of God, who by grace offers us a future we could never earn.
With Lenten memory, we recall the journey of our biblical ancestors, the Hebrews led by God from slavery to freedom through generations in the wilderness, and we too reflect on what being descendants of oppressed slaves whom the Lord brought "out of Egypt with a mighty hand and an outstretched arm" means for us today. The formulaic verses of Deuteronomy recall this history, reminding the worshiper with their produce just how far God has carried God's people, from the "wandering Aramean," Jacob, through Egypt, and to a new life and new covenant with God.
The danger inherent in this journey from Egypt to the Promised Land is difficult for us to capture today. Even without the threat of Pharoah's army, to wander in the wilderness without permanent shelter, a stable source of fresh water or the means to grow food meant risking death from all sides. The lament of the people is understandable. They cry out to Moses, "If only we had died by the hand of the Lord in the land of Egypt … for you have brought us out into this wilderness to kill this whole assembly with hunger" (Exodus 16:3). The Hebrews, led by Moses, were dependent on God's response to their complaint: manna, a bread-like substance, rained down at night to fill them.
For our ancestors, the wilderness may have seemed like a trial to be endured and, if lucky, survived.
Perhaps that trial isn't as hard for us to relate to that trial as it might seem. How often do we experience life as having more risks than rewards or more trials than triumphs? With rates of hunger around the world skyrocketing during the COVID-19 pandemic, natural and unnatural disasters wreaking havoc, and conflict uprooting lives, the world can often feel like a wilderness to be endured and, if lucky, survived.
The witness of our biblical ancestors is critical for us during Lent. The history recalled in the ceremony of the offering of the "first fruits" in Deuteronomy reminds us of two important truths as we begin this season. The first truth is that God is not the source of suffering. Even as the wandering Hebrews saw their time in the wilderness, at times, as a grueling test administered by an exacting God, it was God who journeyed with them. God responded to their cries with sustenance and protection that enabled them to survive.
The second truth might best be summed up in the popular quote from J.R.R. Tolkien's The Fellowship of the Ring: "Not all those who wander are lost." Even when the way seemed uncertain for Jacob, the "wandering Aramean," he was never alone as he sought a land to call his own. God was leading him somewhere as surely as God had greater things in store for the Hebrews than a mere flight from Egypt.
These truths lie at the foundation of the church's witness today — even as so many of our neighbors face the uncertainty of survival in a world where as many as 811 million people are undernourished. In the Chiredzi District of Zimbabwe, Emma Mangwende gives voice to this uncertainty when she wonders, in her words, "how to survive as an old lady looking after seven grandchildren."
What would being grounded in these truths look like for us — a church accompanying neighbors with challenges like Emma's?
We can start by responding to the realities of hunger and poverty now and working with companions and partners with a vision for the future. In Zimbabwe, Lutheran Development Services (LDS) embodies this vision, working with Emma and other residents of the Chiredzi District to implement new models of farming that conserve water, preserve soil and increase yields. This work reflects the LDS vision of "transformed, robust and resilient communities living a just, peaceful and dignified life manifesting God's love." It is a testament to the two truths revealed in the story of God's journey with God's people in the readings for this Lent.
As we respond to hunger in the world, we do so knowing that God has provided abundantly to meet our every need, even as inequities and injustice prevent so many of our neighbors from enjoying the fruits of God's creation. Our response — and our Lenten confession of the ways we have fallen short in responding — bear witness to the truth that inequities ought not to be. Amid risk and uncertainty, the work of neighbors such as Emma and LDS and of congregations in the United States and around the world is a testament that, even now, God is giving life to a promise of "a land flowing with milk and honey," a world in which hunger and poverty will be no more.
This Lent we look back, remembering the ways God has been with us in our journey, and we look forward, longing for the fulfillment of God's Easter promise. And we work, trusting that the God of our wandering ancestors is being revealed still today in our neighbors as we find our way through the
wilderness together.
Ask
Think of a time when a situation seemed particularly uncertain or challenging. In what ways was God present with you?
How might the church's work alongside people facing hunger and poverty bear witness to God's promise for the future?
Imagine you had to rewrite the offering prayer from Deuteronomy 26:5-10. What would you include? What moments or events from your life or the life of your community would be part of your prayer?
How does (or should) being descendants of "a wandering Aramean" such as Jacob shape the work of the church today?
Pray
God of our yesterdays and tomorrows, you guided our ancestors through the wilderness to freedom, a new home and a future with promise. Turn our hearts toward our neighbors who face uncertainty, insecurity and risk today. Inspire within us compassion for their needs, gratitude for their gifts and a holy yearning for justice, that all may experience safety, security and hope in our world today. In your name, we pray, amen.
Learn more and follow ELCA World Hunger's 40 Days of giving throughout Lent by visiting ELCA.org/40days.