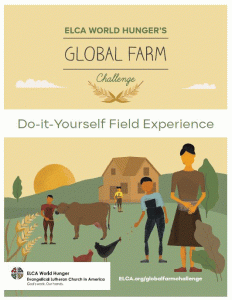 Youth and adults from across the ELCA joined together in Houston this summer to celebrate Jesus' life, death and resurrection and to state boldly, "This Changes Everything!"
At the ELCA Youth Gathering this year, we had the chance to be part of that change in the lives of smallholder farmers through ELCA World Hunger's Global Farm Challenge. Together, our church raised more than $1.1 million to provide animals, seeds, tools, training and more to our farming neighbors around the world. Thank you!
ELCA World Hunger's Global Farm Challenge Field Experience track gave youth and adults the chance to walk through one season with smallholder farmers and to learn about the challenges – and opportunities – they face.
Now, you can share this experience with your congregation.
The guide has everything you need to lead your own track. It has instructions for each of the stations on the track, tips from ELCA World Hunger staff and printable copies of the signs you'll need to host your own "Field Experience." The guide is available for download for free at ELCA.org/hunger/resources.
Farming communities face a lot of challenges, but farmers also have a lot of opportunities. Together, we can learn from our farming neighbors and be part of what God is doing to end hunger for good.
Want to stay in touch with ELCA World Hunger? Sign up here and receive news, information and the latest resources from ELCA World Hunger.