This advent reflection is part of ELCA World Hunger's 2020 Advent Study. You can download the full study here. You can also download the corresponding advent calendar here. 
Advent Week Three
"Comfort"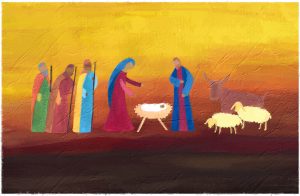 Read
Isaiah 61:1-4, 8-11
Psalm 126
I Thessalonians 5:16-24
John 1:6-8, 19-28
Study
Volunteering has always been the lifeblood of Cacilda Rodrigues Barcelos. Born in São Borja, Brazil, she moved at age 13 with her family to the metropolitan region of Porto Alegre. Alone, her mother raised 11 daughters and sons, until her 50th birthday, when she died. Cacilda was 22 at the time, and the community helped to support her. "People taught me how to do what I do, because I was welcomed by them," she says.
Now 63, Cacilda has dedicated years to giving back through volunteering. Early on, she worked with young boys in the community to make and sell food at fairs to help pay for uniforms and tournaments for their soccer team. Today, as a member of the management board of the Fair Trade and Solidarity Network (a project of the diakonia foundation of the Evangelical Lutheran Church of Brazil), she helps train other women in entrepreneurship and helps plan workshops and fairs where they sell their goods. She also volunteers in the Peace Service and teaches women to prevent and overcome violence.
As much as Cacilda has changed her community, the biggest change has been in her personal life. "I learned to put myself in other people's shoes and respect each other. I was very angry, as a way to defend myself, and it was in these meetings and meetings [with other women from the Fair Trade and Solidarity Network] that I grew and improved," she says. "That's why I say I'm the one who gains the most."
As common — and often justified — as anger is, it is one of those emotions that we struggle to deal with in the church, at times. We might find it difficult to place raw, tumultuous emotions within the life of the people of God. Perhaps it is one of the reasons that this season we will sing songs about the "holy infant so tender and mild" ("Silent Night") or "that mother mild" ("Once in Royal David's City") while we still await the writing of an ode to Jesus' overturning of tables in the temple. Volatile emotions, particularly in the seasons of Advent and Christmas, feel so out of place. We aren't quite sure what to do with them.
That has made 2020 particularly hard to navigate. This year, we have lived with the grief of the hundreds of thousands of lives lost to the COVID-19 pandemic. We have mourned isolation from one another and the loss of that most basic human need of touch, even as we understood the risk that accompanied handshakes and hugs. We grieved together as loved ones and neighbors died alone in hospitals or nursing homes. And when we couldn't gather together for funerals, we lost a key ritual for processing our grief as a community.
We grieved the loss of livelihoods and the closure of family businesses that had been part of our communities for generations. We feared the long-term consequences for our communities as jobs were lost and more and more people around the world went hungry.
And we were angered together by the deadly injustice of racism and the persistent inequalities that exacerbated the pandemic in many communities. Demonstrations filled streets in cities large and small as a collective voice of rage was raised against a racist justice system that continues to disproportionately permit and even sanction extrajudicial killings of people of color.
Certainly, our hope rests in that just peace (shalom) that "surpasses all human understanding," which will "wipe away every tear from our eyes" and bring such equity and harmony that the lion will lie down with the lamb and the child will play with the viper and not be harmed. But there are times when it is difficult to see this promise through the lens of overwhelming grief and righteous anger. And there are times when grief and anger are what we need to move us toward justice, which is the form of the love of neighbor takes in society. For many of us, 2020 was one of those times.
The promise of Advent is not merely the promise of a future when all shall be made well, when all grief and anger shall cease and when the weight of heavy emotions shall be lifted from our shoulders. The promise of Advent — or, perhaps, the comfort of Advent — is that, amid our grief and anger, God is present, walking with us, consoling us, inspiring us and prodding us to walk together toward the future
where justice and peace will kiss (Psalm 85:10).
The future day promised by Isaiah in this week's reading is a promise not to those who are comfortable but to those who are afflicted. In "the year of the Lord's favor," God will "provide for those who mourn in Zion — to give them a garland instead of ashes, the oil of gladness instead of mourning" (Isaiah 61:2-3). It is a promise that those whose burdens have left them with a "faint spirit" will be given the strength of "oaks" and that God will "cause righteousness and praise to spring up" like the first plants of spring (61:11). It is a promise that God, who "loves justice," (61:8) will establish the same — and an invitation for us to be part of this.
Perhaps that is the reassurance of the Scripture readings for this week. The grief and anger that have marked so much of this year — and that mark so much of every year for many of us living in vulnerability to disease, injustice, hunger and violence — is where God meets us. We need not gather the strength to move on nor ignore the depth of our pain in order to find God. God finds us in these depths.
Cacilda, working tirelessly with neighbors in Brazil, was able to let go of her anger and felt herself changed by the experience. But God did not wait for that moment to work transformation and renewal through her. Indeed, it may be through this very tumult that God moves us toward greater actions of justice. Christ did not wait for a comfortable bed but was born in the sharp, chafing, ill-fitting manger, amid the noise of the animals and the loneliness of the stable. We need not wait to be comfortable, for our grief to resolve or our anger to subside, in order to draw close to God.
God has been there all along.
Ask
What caused you to mourn or angered you this year?
How does God meet you amid your grief and anger?
How can the transformation of our grief or anger help spur us to
deeper acts in service of one another or in service of God?
What would a just peace (shalom) look like in your community?
In the United States?
Pray
Comforting and empowering God, you meet us amid our pain and ease the load of our burdens. Be near us in our grief and anger, comfort us as we mourn and move our will toward acts of justice for one another. Grant the world just peace this season, that we may find rest and hope in you. In your holy name, we pray. Amen.