– Tuhina Verma Rasche
Emcees. Speakers. Musicians. Dancers. Producers. Coordinators. Guides. It takes a community with numerous talents and skills to create a lively and meaningful experience for each night of Mass Gathering. It also takes time, patience, humor, and grace. The Mass Gathering team brought people together to embody what the Mass Gathering will be. There was singing, dancing, and speaking. There was also space and time to get to know one another and to create new friendships as preparations continue for our time together in Houston.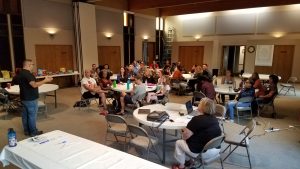 As one of the speakers, this gathering has been a sacred space of sharing the stories and experiences that have brought us to this place of preparation. We've been able to care for one another in ways that are representative of the church. We've held space for one another to share our gifts in this space.
This space and time of preparation has been holy ground.
It is this memory of sacred and holy ground I will take with me to Houston.
There have been tears of joy and a lot of laughter. There have been so many conversations over breaking bread together (and also over Swedish Fish and gummy bears). So much care and preparation has been taken by the Mass Gathering team. It's at this foretaste of the feast to come that I cannot wait for all of you to see what will happen each evening of the Gathering.