Advent week 3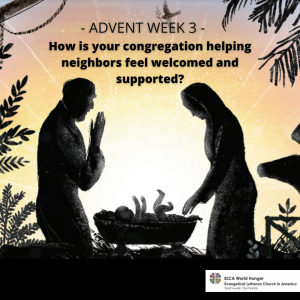 "In reply [John the Baptist] said to them, 'Whoever has two coats must share with anyone who has none; and whoever has food must do likewise.'"
-Luke 3:11
This Advent reflection is part of ELCA World Hunger's 2021 Advent Study and ELCA World Hunger's weekly Sermon Starter emails. You can download the full study here. You can also download the corresponding advent calendar here. You can sign up for the weekly Sermon Starter emails here on the right side of the page if on a computer or near the bottom of the page if viewing from a phone.
Reflect
In December 2019, then-Secretary of Agriculture Sonny Perdue announced changes to the Supplemental Nutrition Assistance Program (SNAP) that would have increased restrictions on eligibility and caused the loss of benefits for many Americans. In doing so, he told reporters that the changes would help move "more able-bodied recipients off of SNAP benefits toward self­
sufficiency." His argument, like so many arguments against SNAP and other public assistance programs, was that these programs make people dependent rather than self-sufficient.
There's nothing new in this (though one might wonder how "sufficient" the average SNAP award of $121 per month was at the time). For decades, self-sufficiency has been celebrated as the ideal marker of success. In 2019, Ken Cuccinelli, acting director of
U.S. Citizenship and Immigration Services, famously altered the words of Emma Lazarus enshrined on the Statue of Liberty when he defended new restrictive immigration policies: "Give me your tired and your poor who can stand on their own two feet and who will not become a public charge," he opined. His message was clear: self-sufficiency is not just an ideal but a prerequisite for being part of American society.
By contrast, our faith is rooted in the idea that we are not self­ sufficient but dependent and interdependent. Advent is the story of a dependent people being saved by God for the very reason that we could not save ourselves. We were and have always been dependent. From the first humans in Eden, relying on the gifts of the Creator, to our ancestors, wandering in the wilderness totally dependent on the protection and provision of God, Scripture is the story of God with us – because we can't do it alone.
In the Gospel reading for the third Sunday in Advent, John the Baptist chastises the crowd, calling them a "brood of vipers" and comparing them to chaff – the waste from processing wheat – that would be left on the threshing floor. When they ask what they ought to do, John's response is intriguing. He doesn't advise them to pray harder or attend synagogue more frequently. Rather, he urges them to restore their relationships with one another. In short: share and be fair. Share with one another (Luke 3:11) and be fair in your business dealings (Luke 3:13-14). John's response is to recognize and respect our dependence on one another. When we are in need, we depend on the generosity of others. And in daily life, our well­ being depends on trusting others to act justly.
The early church took this to heart. In the book of Acts, we learn that the first Christian communities "had all things in common; they would sell their possessions and goods and distribute the proceeds to all, as any had need" (Acts 2:44-45). This kind of sharing distinguished Christian communities for centuries afterward.
For early Christians, dependence on one another went beyond just being nice. It was deeply rooted in the common understanding of property, human nature and God. Charles Avila, in his masterful book Ownership: Early Christian Teaching, describes how, for the early writer Clement of Alexandria, the purpose of property was twofold: autarkeia, or the ability to care for ourselves, and koinonia, the obligation to care for others in the community. Ultimately, Clement says, we are created for koinonia, for community.
Autarkeia, the "self-sufficiency" provided by property, finds its truest meaning in the freedom it provides us to care for each other. No one can live, let alone thrive, without help from others.
The COVID-19 pandemic reminded us of this interconnectedness. Even as we kept physical distance, the deep needs that stemmed from the pandemic couldn't be ignored. Hunger around the world increased dramatically. In the United States, food insecurity and economic insecurity led to massive spikes in the numbers of people using food pantries and other community assistance resources.
Ellie Puente saw this firsthand in her community in Fuquay­ Varina, N.C. When the pandemic hit, she worried about her son's friend, Carlos, and his family. She knew Carlos' family had trouble
making ends meet, and the pandemic only made the situation more challenging. Ellie met with a friend and a few teachers from the school where she volunteers. Together, they identified 20 families, including Carlos', that were in need. They rounded up donations and started making daily deliveries of lunches and other food supplies to their neighbors. Every time they thought they would run out of money to pay for food, local supporters stepped in.
Abiding Presence Lutheran Church became a partner in the school's program and provided food for the families with the help of a Daily Bread Matching Grant from ELCA World Hunger.
Their relationship with the families has been crucial during the pandemic. "Our food delivery program has been instrumental in meeting a physical need by providing food to our families," says Ellie. "More importantly, our food delivery program has helped us create a deeper connection with families……………… [The] families know we
love them, and they know they belong."
The sharing that John the Baptist called his early followers to practice, and that Ellie, Abiding Presence and the school practiced, is about more than the things we distribute. It's about who we are created and called to be. As this Advent season reminds us, God promises not that we will be fine on our own but that we will be made whole in reconciled and transformed relationships with God and one another. From the joy of Zechariah in the second week
of Advent to the proclamations of John the Baptist this week, the message of Christ's coming is that we can't do it on our own – nor do we have to.
The pandemic has shone a spotlight on the ways we depend on one another and showed us just how effective we can be when we recognize that interdependence and respond to it in love.
Ask
How are the terms "self-sufficiency" and "interdependence" related? How are they different?
In your own life, how has the support, care or presence of others helped you? Thinking about it another way: in the story of your life, who else might play an important part?
How might the work of Ellie's school and Abiding Presence Lutheran Church have helped the families "know they belong"? How is your congregation helping your neighbors feel welcomed and supported in your community?
In what ways has the COVID-19 pandemic reminded you of our dependence on God and one another?
Pray
Gracious God, you have brought your people together into one community, reconciling us in Christ one to the other. Forgive us for the times when we have isolated ourselves or others, and inspire us with the love that binds us together. When we feel alone, remind us that we are loved. When we are estranged, remind us of your love for others. Bless us with the memory of our dependence on you and each other this Advent, that we may be part of the community you have created in our midst. In your name, we pray. Amen.
Children's Sermon
By Pr. Tim Brown for ELCA World Hunger Sermon Starters
In response to this coaxing work that God in Christ does upon us, follow the suggestion that ELCA World Hunger's Advent Action Guide suggests on page 6 and debut one of the posters that gives testimony to what your gifts to ELCA World Hunger does in the world. 
Pre-order one of the posters ELCA World Hunger provides, and have it on hand, rolled up behind your back.
"Hi all!  I'm so glad you're here today." Hold the poster out of sight. "Today we are introduced to someone very wild, very interesting, does anyone know who it is?"
Allow time to field responses.
"Yes! John the Baptizer. He was loud and proud and was baptizing people in the River Jordan. Come here, let me show you something…" Invite the youth to the baptismal font, keeping the poster behind your back. "John the Baptizer was baptizing people, just like we do right here at this font. He was baptizing them into a new way of life, reminding them that God loved them and invited them to live like they are loved."
"And you know what loved people do?  They love other people!  Loved people love people.  How do you show your love to someone?"
Allow time for them to answer.
"Right, they do all those things.  Want to know one of the ways our congregation, all together, loves people?  We give part of our offering to ELCA World Hunger <unveil poster> and we help feed others around the world, or help them get jobs, or help them afford homes.  Being baptized reminds us that we're loved by God, and loved people love people, and so we love people all around the world through giving support to ELCA World Hunger. I'm going to hang this poster out there <point to the narthex> so that we can remember how loved people love people the rest of the month, but I want to tell you a surprise. Ready?  Come close"
<whispered> "You are all loved, and loved people love people. And those people out there?  They need to remember that they are loved. Dip one finger in the font, and go up to them and draw a cross on their forehead, saying, 'Loved people love people.' Can you do that?  Ready? Go!"