Many folks passionate about hunger issues are familiar with Shannon Jung's work. He has written extensively on the topics of food and eating from a faith-based perspective. His books include Food for Life: The Spirituality and Ethics of Eating (2004), Sharing Food: Christian Practices for Enjoyment (2006), and Hunger and Happiness: Feeding the Hungry, Nourishing Our Souls (2009). In addition to his perceptive writing on these topics, Dr. Jung is a Presbyterian pastor and professor who has taught at Concordia College (Moorhead, Minn.) and Wartburg Theological Seminary (Dubuque, Iowa) as well as Dubuque Seminary and Saint Paul School of Theology. Below, Jung introduces us to his newest book, Building the Good Life for All: Transforming Income Inequality in Our Communities, available this year from Westminster/John Knox.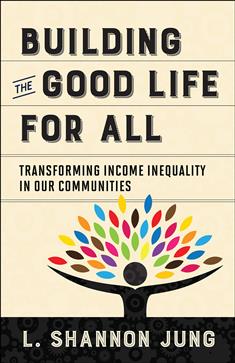 We hear a lot about the gap between the economically secure and those just getting by. What we wonder is, "How can we transform this gap in our communities?" We know that this is the sort of neighborliness Christ commended. But still the question: How can we build the good life for all?
Sometimes that neighbor is working hard to get by but seems to be falling behind and going further into debt. Many times, a single expense (doctor's bill, car accident) will shatter a tight budget and force a family to choose between food or medicine or a house payment. "Getting by" can often be a pretty precarious way to live.
We see the devastation that natural disasters can wreak on vulnerable communities. Yet the income inequality we see now can leave communities vulnerable as well – to hunger, poverty, homelessness, and disease. What can we do about this?
In this new book, Building the Good Life for All: Transforming Income Inequality in Our Communities, the focus in on those who are working but find themselves struggling to get by, including those whose income already leaves them living in poverty.
As I contended in Hunger and Happiness: Feeding the Hungry, Nourishing our Souls, I argue here that our own happiness depends not on the quantity of goods we have stored up, but rather on our efforts to eliminate hunger and to ensure that all have access to the resources for a "good life". Indeed, our own flourishing is tied into the flourishing of our neighbor. Thus, alleviating suffering and enabling long-term well-being is spiritually uplifting for the receiver, but even more so for the giver.
Building the Good Life for All maintains that our work at enabling all our neighbors to enjoy a good life will enrich our spiritual life. We are interdependent. God creates us like that. Striving to empower all people to have a sufficient and secure life–free from hunger and want–is one step towards recovering what God intended for the world.
This isn't an attempt to harangue Christians into "doing more." Instead, the book moves by way of stories from one strategy to another. People and churches are already working to feed the hungry and clothe the naked. They are also engaging in efforts to help people develop skills and abilities that will enable them to feed and clothe themselves. So, what the body of the book contends is that this effort is already underway and that Christians could enrich themselves by joining them or initiating similar efforts in their communities.
The beginning focus is on the specific community of Manatee and Sarasota counties in Florida, but many of the efforts there (advocacy, food pantries, tutoring programs, congregational-based community organizations) have branches around the country. So, the question is, "What fits your community?" There will be other similar efforts in your community. Many of the chapters in the book focus on one of four strategies:
Relief: This is the sort of program that a crisis like a hurricane calls for–feeding the hungry, finding clean water for the thirsty, making sure people are free from illness.
Self-Development: Here, churches can come alongside the working class and poor to assist them to learn English, to learn household management, to develop job skills, to get a job or to get a better job. People are thus able to feed themselves.
Public opinion formation: The church's hunger ministries are efforts to shape public opinion in such a way as to see hunger as a scandal in the land of the free.
Public policy advocacy: This is the sort of work that ELCA Advocacy does with its partners, including Bread for the World, to influence legislation that will guarantee an income floor for all people and to support the rights of workers. It also includes such efforts as Fight for Fifteen – the movement to raise the minimum wage, and working to make affordable housing more accessible.
I strongly hope this book will be used by adult Christian education groups in churches. Each chapter has a list of discussion questions to spark conversation, and the last chapter encourages churches to develop or extend their own work. It is helpful that the operating assumption is that churches and other organizations are already doing this and the encouragement is to develop efforts that fit one's own context.
In addition to the discussion questions in the book, there will be a video series to accompany the text, to help facilitate use by congregations.  Building the Good Life for All: Transforming Income Inequality in Our Communities is now available on sale from the Presbyterian Church (USA) store at https://www.pcusastore.com/Products/0664263186/building-the-good-life-for-all.aspx.