– Chris Clay
Hello, I'm Chris Clay. I'm a lifelong Lutheran, born in Chicago. I grew up and spent most of my life in Atlanta.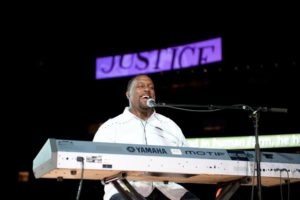 I served at five of the last six Gatherings. In 2000, I "Danced at the Crossroads" in St. Louis, performing concerts with my band. In 2003, I was in my hometown of Atlanta to "Do Life" or "Ubuntu." I was a member of the House Band in 2009 for "Jesus, Justice, Jazz" in New Orleans.  I was back in N'awlins in 2012 where we celebrated being "Citizens With the Saints." I also served as a member of the House Band and as worship leader for "Practice Peacemaking" Day. In 2015, I served as the House Band Music Director in Detroit guiding the community to "Rise Up, Together." Creating music for the Gatherings has been one of the greatest joys and honors in my life.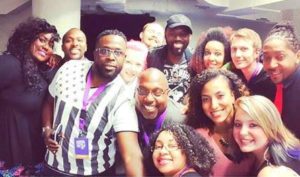 Each Gathering has been a beautiful place where I've created friendships and relationships with SO MANY people… people from different places, all walks of life, all colors, all generations. But here's the BEST thing—even though there are vast differences and delightful diversity—there is an overwhelming sameness and oneness that I feel… and I hope YOU feel it, too.
We come together and share a common faith.
We come together and serve an AWESOME God by serving others.
We come together to listen and learn.
We come together to sing and dance.
We come together to WORSHIP and PRAISE!
One of my favorite praise songs I'm listening to right now is called "Spirit, Break Out" by William McDowell. A lyric in the chorus describes what I see, feel, and hear at the nightly mass gatherings:
Our Father, all of heaven roars your name,
Sing louder—let this place erupt in PRAISE …
Can you hear it?
The sound of HEAVEN TOUCHING EARTH!
The sound of HEAVEN TOUCHING EARTH!
THAT IS IT!  That's what the Gathering has been for me—the sound of Heaven Touching Earth.