Advent Week 4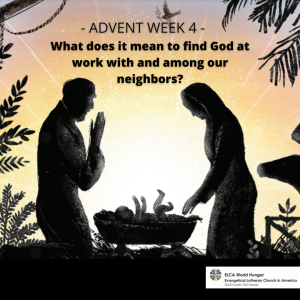 "Elizabeth was filled with the Holy Spirit and exclaimed with a loud cry, 'Blessed are you among women, and blessed is the fruit of your womb. And why has this happened to me, that the mother of my Lord comes to me?'"
-Luke 1:41b-43
This Advent reflection is part of ELCA World Hunger's 2021 Advent Study and ELCA World Hunger's weekly Sermon Starter emails. You can download the full study here. You can also download the corresponding advent calendar here. You can sign up for the weekly Sermon Starter emails here on the right side of the page if on a computer or near the bottom of the page if viewing from a phone.
Reflect
We are nearing the end of Advent and the start of that special holiday, Christmas. In the United States, stores have been filled with seasonal music for six months now (it feels that way, at least), garlands and lights are draped over homes and lampposts, and pine trees are adorned with baubles of all shapes and sizes. In many countries, Christmas markets have taken over city squares. As the old carol says, "It's beginning to look a lot like Christmas."
Doesn't the season, at times, feel almost too big, perhaps even overwhelming? Shopping for Christmas is such a big affair that, at least in the United States, it has come to dominate stores earlier and to fill social media feeds and websites with ads earlier and more visibly, refusing to be confined to the last weeks of the year or even to the month between late November and Dec. 25. In the life of the church, we often hear voices reclaiming Advent as a season distinct and separate from Christmas. Yet, the liturgical calendar aside, the bigness of Christmas often overshadows the important time of Advent.
Christmas is a big deal, and rightfully so. On Christmas Day, we celebrate the birth of the Christ, who will transform the world. Everything changes on that Christmas morning. The Gospel reading for this final Sunday of Advent tells us that even John the Baptist, though still in the womb, "leaped for joy" (Luke 1:44) when the pregnant Mary drew near.
Clearly, something huge is happening. But the story in Luke is a little curious, given what we know now about the importance
of that first Christmas. Sure, there are angels, but in the Gospel story, they appear in quiet moments of solitude –  to Zechariah as he attends to the incense in the temple, to Mary at home and to a small group of shepherds. There are no magi in Luke's Gospel, either. Instead, there are Mary, Zechariah, Elizabeth and, later on, Simeon and Anna – by all accounts, relatively unremarkable people. Yet Luke's story begins here: with Zechariah at work, in a
private conversation between cousins Mary and Elizabeth, and in a manger.
Amid the ordinariness of daily life, work and conversation, great miracles are afoot. And in a manger in a stable, the Savior of the world lies wrapped in bits of cloth. Later, there will be talk of kings and rulers, high priests and other important figures, but for now, in these opening chapters of Luke, the sacred breaks in among the ordinary and, as Mary sings, among "the lowly" (Luke 1:52). Even Elizabeth is surprised. "Why has this happened to me, that the mother of my Lord comes to me?" she asks.
Luke powerfully reminds us what it means to work for a just world where all are fed. This is hard work. It takes time, energy and prayerful patience. It can be frustrating work too. Watching the number of hungry people around the world climb again after decades of work to reduce it is discouraging. Hearing political leaders speak blithely about cutting funds for much­
needed programs can be infuriating. Along the way, we hope and yearn for that promised day when "[we] will hunger no more" (Revelation 7:16), when our cupboards will be full, when we won't have to visit the food pantry every week or stretch insufficient public assistance to the end of the month.
We yearn, we long, we wait …
Isn't that the meaning of Advent? Advent is a time of longing and anticipating the coming of Christ. Perhaps that is why Christmas can feel so huge next to Advent. We're tired of waiting, and the problems we face are so large – hunger, poverty, injustice, inequity
– that we need the bigness of Christmas. Monumental problems require monumental solutions.
The Gospel story for this week, though, reminds us that Advent is about learning to look for signs of God at work even as we await the fulfillment of God's promise to us. In her pregnancy, Mary, with
the help of an angelic messenger, sees the "great things" God has done for her and for the people. Elizabeth, too, sees in her pregnant cousin "a fulfillment of what was spoken to her by the Lord"
(Luke 1:45). Later, Simeon and Anna will recognize the seemingly ordinary couple entering the temple as an extraordinary sign of God's presence.
The Advent story teaches us not just about learning to be patient but learning how to wait. It reminds us to look for the miraculous in the mundane, for the ever-present work of God in the everyday.
That's an important lesson as we and our neighbors face intractable, even overwhelming challenges. We may long for the "big things" that make a difference, but as we saw during the C0VID-19 pandemic, God was at work in countless local ways – at food pantries that met increased needs, in schools that reached out to families needing support, at clinics and hospitals, and through rental assistance programs.
In Belgrade, Serbia, 15-year-old Leyla, whose family fled Iran as asylum-seekers, was one of millions of students around the
world impacted by the pandemic. The transition to online learning meant she and her peers faced additional obstacles to taking the final exams that would allow them to continue their education.
With support from ELCA World Hunger, the (APC) in Belgrade worked with the school to make sure Leyla and other students had the support they needed to take their exams and keep working toward their goals. Leyla did well on the exams, far better than she expected, given the language barrier and the significant gaps in her education as she and her family settled into a new land. With support from APC and the school, Leyla went from dreading the exams to celebrating her results and anticipating the next step in her education.
Through the ministry of ELCA World Hunger, we accompany neighbors such as Leyla in Serbia, Carlos in North Carolina, Hala in Egypt and Charity in South Sudan. A student in a new city, worried about her exams; a family in a small town, worried about paying their bills; a mother, working hard to pay rent; a woman in labor, walking into a clinic. In Advent, we are reminded that this accompaniment of our neighbors is, in the end, about the
active anticipation that seeks and finds God at work, transforming ordinary situations into extraordinary signs of the coming fullness
of God's reign, when all will be fed, when "justice [will] roll down like waters," when "God will wipe away every tear from [our] eye" (Revelation 7:17), and when "Judah will be saved and Jerusalem will live in safety" (Jeremiah 33:16).
That is the promise of Advent and the joy of Christmas, that in ways both big and small, in the local and the global, amid huge crowds and with a single neighbor, God is at work, weaving "the promise [God] made to our ancestors, to Abraham and to his descendants forever" (Luke 1:55). Ending hunger doesn't always mean seeking miracles
of impressive scale. The gospel message invites us to see the miraculous ways God is already at work among our neighbors when we come together to work for a just world where all are fed.
Ask
Where have you seen God at work through ordinary events or people?
In what ways might neighbors see God working through you and your congregation?
Why do you think the church is called to accompany neighbors such as Charity, Hala, Carlos and Leyla?
What does it mean to find God at work with and among our neighbors?
Pray
Loving God, even when the challenges we face seem too great to handle, you remind us that we are never alone. Inspire us to seek your presence within each other and within the work of your church. Guide us, that we may be open to seeing the miraculous within the everyday, that we may recognize your image in our neighbors, your work through their hands and our own. Inflame us with a holy yearning for a just world where all are fed, that we may participate in the promise you are fulfilling in our midst. In your holy name, we pray. Amen.
Children's Sermon
By Pr. Tim Brown for ELCA World Hunger Sermon Starters
Riffing off the Micah text for today and the literal meaning of the name Bethlehem, surprise youth with a lesson on the sacraments.
Have a large manger of some sort, perhaps from your Christmas decorations, and have it empty except for a loaf of bread (maybe even the loaf that you use for communion) wrapped in a corporal or similar cloth. If it is not safe in this pandemic to share from one large loaf, have pieces of the loaf individually wrapped along with the larger loaf to use for the sacrament, and place them all in the manger.
"Hi all!  I'm so glad you're here today." Have the manger and bread hidden somewhere in the church. "In our first reading for today a town was mentioned, a town some of you may have heard of before. Does anyone remember what town?"
Allow time to field responses.
"Yes! Bethlehem. What special happens in Bethlehem?" Invite the youth to answer "Exactly. In Matthew and Luke we're told that Jesus was born in Bethlehem.  Want to hear something cool?  The name "Bethlehem," it means something in Hebrew.  Does anyone happen to know what it means?  Probably not. It means 'House of Bread.' So that means Jesus was born in the 'House of Bread.'  Which is also kind of cool, because Jesus will call himself the 'Bread of Life.'"
Pretend to think for a minute
"You know what?  You know how people always put a baby in the manger in their Christmas decorations?  Well, I think maybe we should put something different in there.  In fact, I hid a manger in the sanctuary today.  Did anyone see it? Do you know where it is?"
Allow time for them to answer. Go over to it and have one of the youth pull out the bread.
"Jesus, the Bread of Life, born in the House of Bread, invites us every Sunday to share in God's amazing communion feast of bread and wine, special ways that God blesses us.  I think maybe instead of a baby doll we should start putting the communion bread in the manger.  What do you think?"
Allow the youth to answer, most will probably say no.
"Well, even if we don't do that every Sunday, we've done it today to remind ourselves that God in Christ is the Bread of Life giving us the gift of communion, and the gift of community, so that we can live together in love.  I have a surprise for you. Come closer. <whisper> Those people out there?  They need reminding that Jesus is God's surprise gift for us at Christmas. Can you remind them? Go up to someone and say, 'Jesus is God's gift to us,' and I'll remind them again right before communion where we'll use pieces of this bread. Ready? Go!"