It's hard to believe, but summer is just around the corner, and ELCA World Hunger is happy to announce that "God's Good Creation," our new Vacation Bible School program for 2018, is now available!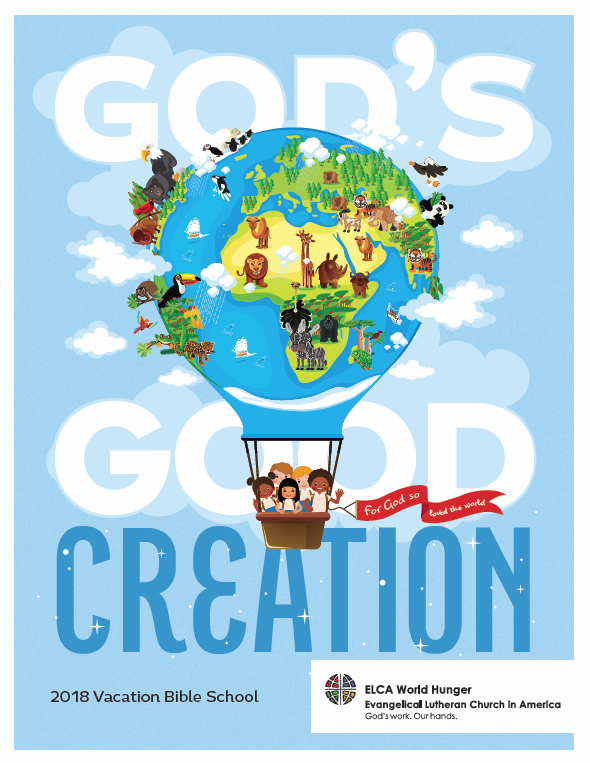 "God's Good Creation" is a free resource available in both print and as a download. The curriculum invites children of all ages to explore the many gifts God has given our world – and the ways these gifts can help end hunger. Each day focuses on a different animal that is part of the more than 200 projects supported by ELCA World Hunger around the world, including chicks, goats and bees. Rooted in Lutheran theology, children will learn how God has called them to use their gifts to help their neighbors. In addition to daily plans for up to three hours, the program also includes sample schedules, tips for including children of all abilities and song suggestions.
Themes for Each Day:
Day One – God created the world, and it is good (Genesis 1:31).
Day Two – God can use you whatever size you are (Matthew 13:31-32).
Day Three – God Made everyone different and important (1 Corinthians 12:4-6).
Day Four – Jesus uses us to bring miracles to life (Matthew 14:20).
Day Five – Working together, we can change the world (Ephesians 4:11-12).
Each day begins with a large group opening, including a skit to introduce the daily theme and the animal of the day. This is followed by "family time" – small group sessions to dig deeper into the theme and bible verse for each day. Then, participants travel through five rotations: crafts, games, snacks, storytelling and a "simulation station" – a fun activity to learn more about hunger and how our faith calls us to respond. (Special shout-out to Lisa Cornwell of Christ the Servant Lutheran Church in Bellingham, Wash., for this idea!) At the storytelling station, children will hear about some of the ways animals are helping our neighbors fight hunger in their communities through projects supported by gifts to ELCA World Hunger. Each day ends with a large group session to recap the theme and lessons.
The program is designed to be flexible and can be used in full or in part for three- or four-day VBS programs. The stories and activities are also perfect for Sunday School, family faith formation and children's sermons throughout the year!
Free posters and downloadable certificates for participants will be available soon!
If you have any questions about "God's Good Creation" or ELCA World Hunger's educational resources, please contact Ryan Cumming, program director of hunger education, at Ryan.Cumming@ELCA.org.