–

Ally McDonough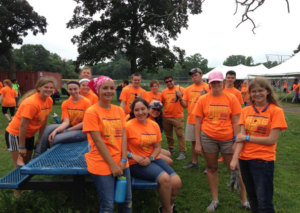 The Youth Gathering was a wonderful, faith-filled experience that left me with more memories and friends than I will ever get in a lifetime. In the summer of 2015, I went to the Gathering in Detroit. Before the trip, I heard many rumors of churches not going to Detroit because of the stigma surrounding the city. Honestly, I was a little apprehensive as well. As soon as my group got to Detroit, however, all of my preconceived notions were gone. Detroit was beautiful inside and out. Through many hardships, the city is still living and thriving one day at a time.
My favorite part of the Gathering and reason I am writing this article is because of one little girl who impacted me more than any speaker did at the Gathering. Her name is Hope. Pictured with me (I am in the pink bandana), Hope was the shining light on an otherwise wet and dreary day.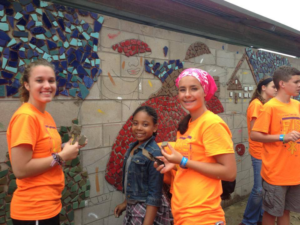 She was a local kid who lived in the neighborhood where we were working. Every day for three days, Hope came out and helped create the beautiful mosaics on the back of the dug outs. Hope came over to my group's dugout and asked if she could help. A system was soon put in place where I would put the mortar on the back of the tile and Hope would choose the final resting place of the tile on the dugout. For over four hours, it was a beautiful symphony of working together to beautify a city so surrounded by negativity and media-bashing. Hope was living out the true meaning of her name in creating beauty in her city and community.
My day with Hope taught me that even with all the negativity, a helping hand and a serving spirit will unite us all.